A major breakthrough has been made by researchers at the University of Technology (UTS), Sydney that could pave the way for the next-generation of quantum communications.
The team of researchers from Materials and Technology for Energy Efficiency Research Strength at UTS discovered a material that emits a single pulse of a quantum light on demand at room temperature, eliminating a well-known barrier to fast and secure information processing.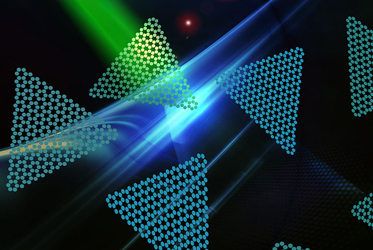 Two dimensional nano-flakes emit red photons for quantum communication technologies. Image Credit: UTS Research TeamUntil they stumbled upon this material, room-temperature quantum emitters have only been observed in 3-D materials such as diamonds—materials that are not conducive for integration into components for chips and commercial devices. This is why researchers rely heavily on thin materials such as graphene for these devices—the famous single layer of carbon atoms.
"This material—layered hexagonal boron nitride (boron and nitrogen atoms that are arranged in a honeycomb structure) —is rather unique," says associate professor Mike Ford. "It is atomically thin and is traditionally used as a lubricant; however upon careful processing, it can emit quantized pulses of light—single photons that can carry information.
The fact that it can emit quantized pulses of light is important because the future goal of the electronics industry is to create optical computer chips that can run on light instead of electrons—in essence this means they would operate much faster and not produce as much heat.
The single photon sources are brighter than any other others currently available and are promising enablers for absolutely secure communications and quantum computation, according to associate professor Igor Aharonovich.
The material is easy to create, inexpensive and can be used at room temperature, which makes it an effective future solution.
The team wants to create a 'plug-and-play' device that would generate single photons on demand and would act as a first prototype source for scalable quantum technologies and eventually pave the way to quantum computing with hexagonal boron nitride.
The UTS team has published its findings in the journal Nature Nanotechnology.
To contact the author of this article, email engineering360editors@ihs.com