Sensor maker Sick AG has announced the launch of the microScan3 Core safety laser scanner. The microScan3 Core is a compact safety laser scanner with a 5.5 m range and a 275° scanning angle ideal for area and access guarding—an industry first, according to Sick.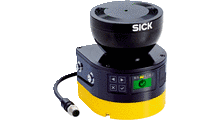 The microScan3 features a time-of-flight based scanning technology that filters out nuisances like dust and ambient light and boosts scan accuracy when faced with dirty environments, weld sparks, or cross-talk — resulting in more reliable sensing and less downtime.
In addition, the microScan3 Core features easy-to-use configuration software as well as pushbutton diagnostics which ensure that troubleshooting has minimal impact on production. The microScan3 Core also features M12 standard plugs, a USB connection, and system plug for easy configuration cloning, which reduces cabling costs and downtime in the event of scanner damage and replacement.