Maybe humans cringe when faced with clutter—but not robots.

While clutter was typically considered a challenging task for robots to overcome, engineers from Carnegie Mellon University developed software that is helping them cope.

The software was not limited to helping robots deal with clutter, though. It even revealed that robots get creative when it comes to problem solving.

"It was exploiting sort of superhuman capabilities," said Siddhartha Srinivasa, Associate Professor of Robotics, of his lab's two-armed mobile robot, the Home Exploring Robot Butler, or HERB. "The robot's wrist has a 270° range, which led to behaviors we didn't expect. Sometimes we're blinded by our own anthropomorphism."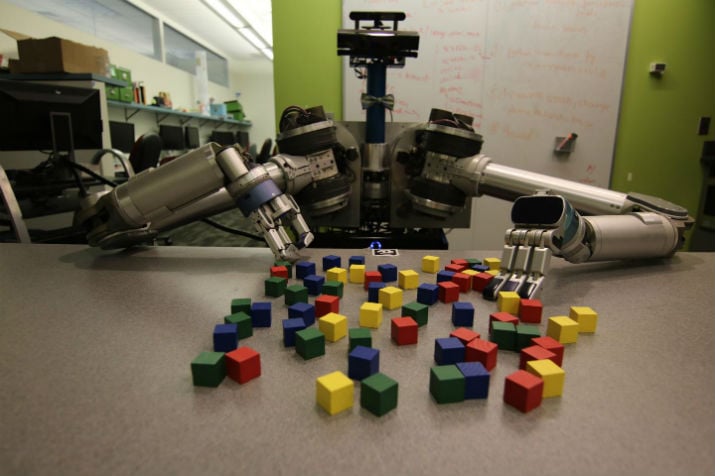 New software developed by Carnegie Mellon University helps mobile robots deal efficiently with clutter, either in the back of a refrigerator or even on the moon. (Image Credit: Carnegie Mellon University Personal Robotics Lab)

The researchers revealed one instance where the robot used the crook of its arm to carry and move an object—something they had never taught it to do.

The rearrangement planner software was developed by Jennifer King, a Ph.D. student in robotics, and Marco Cognetti, a Ph.D. student at Sapienza University of Rome.

In addition to being tested on HERB, the software was tried out on NASA's KRex robot, which is being designed to navigate the surface of the moon.

When tested on HERB, the clutter was geared more toward objects one would find in a typical home, but when tested on KRex, the clutter was more of an obstacle-filled landscape that the robot would need to traverse while pushing an object.

Even though robots are pretty good at picking up objects and placing them where they need to be, the researchers feel this skillset limits their abilities as robots will encounter different obstacles while exploring space or in the future taking care of people's homes.

Picking up and placing objects isn't all that is needed to deal with clutter either. Sometimes objects are moved around and re-positioned.

The rearrangement planner programs the robot to understand the basic physics of its world, so it can determine what objects can be pushed, lifted or stepped on. It can also be taught to pay attention to items that might be valuable or delicate.

Currently the system is limited in the sense that once the robot evaluates the situation and decides on a plan of action to move an object, it simply executes the plan, not taking into consideration issues that may arise once an object is in transport.

The team is working to provide tactile and other feedback that can alert the robot to changes and miscalculations, and can help it make corrections when necessary.