Dawn VME Products has released the VPX-598x Series Gen3 3U OpenVPX Backplanes. The Gen3 3U OpenVPX backplanes are designed for true signal integrity at up to 10.3 Gbaud performance (per VITA 68 backplane simulation models). Supporting PCIe Gen 3 and 10 GbE (XAUI) and the most advanced Gen3 bandwidth module configurations, Dawn Gen3 backplanes offer multiple connector choices, including a high vibration option.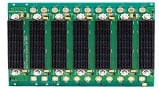 Dawn VME Products VPX-598x Series Gen3 3U OpenVPX Backplanes. Source: Dawn VME Products
Dawn uses VITA 68 S-parameter simulation models of signal paths across the backplane to ensure compliance with signal integrity standards. In the simulation models, a signal integrity budget is established for the backplane portion of a system. These models permit simulation of the backplane with available OpenVPX modules and connectors, so full system signal integrity can be achieved.

Using these simulations to guide the backplane designs, Dawn engineers use back drilling to remove stubs and then layout paths to eliminate impedance discontinuities. The goal is to optimize the path between any pair of transmitting and receiving chips in the systems, so communication proceeds without cross talk or other forms of interference.

Dawn's 598x Series VPX backplanes comply with the following released standards and December 2015 state of draft specifications: VITA 46.0, VITA 46.1, VITA 46.3, VITA 46.4, VITA 46.6, VITA 46.7, VITA 46.9, VITA 46.10, VITA 46.11, VITA 48.0(REDI), VITA 48.1(REDI Air Cooling), Vita 48.2(REDI Conduction Cooling), VITA65.0 (OpenVPX) ready. VITA 68 backplane models are available on request for system simulation.

The VPX-598x Series offers multiple connector choices from Tyco and EPT. Options include the Tyco MULTIGIG RT 2 and MULTIGIG RT 2-R ruggedized connectors and the EPT Velox® connectors. Amphenol R-VPX or Viper connectors available on request.

Any standard power supply can be configured with the VPX-598x Series, using its available terminal block and bus bars to facilitate the power connection.

The VPX-598x Series is designed to operate within standard 1101.10 3U VPX enclosures. Dawn offers a range of compliant 3U enclosures for both development and deployment.

The backplane is priced at $2,625.00 each.