Amphenol Aerospace has unveiled VPX connectors that meet and exceed VITA 46 standards. The R-VPX connector series is designed for embedded computer applications in many commercial and military applications, such as avionics, C4ISR, ground defense, missile defense and space systems with data rates of 10 Gbps or more.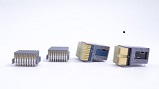 Amphenol Aerospace R-VPX connector. Source: Amphenol Aerospace
The R-VPX series is a commercial, off-the-shelf (COTS) high-speed, high-density, ruggedized VITA 46-compliant connector series. The connectors are designed to be utilized in open architecture embedded computing systems with modules available for 3U and 6U VPX slot profiles, and are inter-mateable and inter-mountable with any VITA 46-compliant connector. The connectors incorporate PCB wafer construction with customized wafer-loading patterns, allowing for upgrades in existing VPX systems.
R-VPX is a pin-less backplane, low-mating force connector series that supports Ethernet, Fiber Channel, InfiniBand and other protocols. The connectors handle up to 140 signals per inch, supports .8-inch card slot pitches, and can be combined with high-power modules, RF modules (VITA 67) and optical modules (VITA 66).