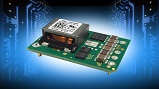 TDK-Lambda i6A DC/DC converters. Source: TDK-Lambda
TDK Corporation has introduced 20 A versions of the TDK-Lambda i6A product family of non-isolated DC-DC converters. Capable of operating from an even wider input voltage of 9 V to 53 V, the i6A4W step-down converters deliver an output voltage that can be adjustable from 3.3 V to 15 V. These parts allow operation from 48 V inputs, and can be used as drop-in replacements for expensive isolated 1/16th converters driving 12 V POL devices in medical, communications, industrial, and test and measurement equipment.

In the 1/16th brick form factor, measuring 33 x 22.9 x 12.7mm, the converters can also be used in conjunction with single-output 12 V, 24 V, 36 V and 48 V output AC-DC power supplies to generate additional regulated high-current outputs, with or without battery backup.

With efficiencies of up to 97%, power losses are minimized, allowing the products to operate in harsh ambient temperatures of –40° C to +125° C even with low airflow requirements. The need for external output capacitance is reduced due to an optimized dynamic voltage response, thus reducing board space requirements.

The basic feature models include an output voltage adjustment pin, positive or negative logic remote on-off, remote sense, input under-voltage, and over-current and thermal protection. Full-feature models are equipped with a power-good signal, output voltage sequencing and the ability to synchronize the operating frequency to minimize system noise. All models are certified to UL/CSA 60950-1, IEC/EN 60950-1, and carry the CE mark for the Low Voltage and RoHS2 Directives.