AMETEK Dynamic Fluid Solutions (DFS), a leader in brushless DC motors and pumps, brushless and regenerative blowers, and controller-based solutions, has added two advanced metrology tools at its Rock Creek, North Carolinaj manufacturing facility, enhancing its inspection, compliance and quality-control capabilities.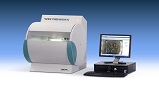 AMETEK adds SPECTRO MIDEX Micro XRF Spectrometer at Rock Creek plant. Source: AMETEK

The additions include a SPECTRO MIDEX micro X-ray fluorescence (XRF) analyzer with an ultrafast silicon drift detector (SDD) system for rapid and reliable elemental analysis. The MIDEX is designed to perform highly sensitive, non-destructive testing. It is capable of both small spot analysis and the rapid mapping of large surfaces, such as electronic component boards.

The compact, benchtop unit from AMETEK's SPECTRO Analytical Instruments business is ideal for RoHS compliance screening of ferrous and non-ferrous metals and quantitative analysis of "hot spots." The MIDEX XRF analyzer features a roomy sample chamber and a motor-driven xyz-table that allows it to map sample surfaces up to double EK format (233 x 160 mm) as well as spot sizes as small as 1 mm.

AMETEK DFS also acquired a Nikon Altera 10.7.6 Coordinate Measuring Machine (CMM) that incorporates the latest CMM technology and is able to perform dimensional, positional and surface measurement within a single system.

The Altera features a ceramic bridge and spindle that provides a thermally stable, ultra-stiff frame and unique air bearings that enhance the rigidity of the frame. Its friction-driven axes provide smooth, hysteresis-free operation.

The unit's proprietary CMM Manager features a full-color 3-D graphic interface and a true click-and-measure capability. Its CAD-based graphic programming allows inspection programs to be developed quickly directly from CAD models.

The Rock Creek plant of AMETEK DFS manufacturers the full line of Windjammer® and Nautilair® variable speed brushless blowers and Rotron® transportation blowers, motors, pumps and fans.