Bosch Sensortec plans to launch a new optical light drive system for future smartglasses at the upcoming CES 2020 in Las Vegas.
Bosch's Light Drive module is a sole source, technology stack that consists of microelectromechanical sensors (MEMS) mirrors, optical elements, on-board processing and other sensors. The goal of the technology is to give users a clean visual experience with bright images even in direct sunlight.
Smartglasses using the technology could allow for all-day wearables with perceived total transparency for the user while the display is nearly invisible to others. The technology could also be used to optimize the performance of waveguide systems already under development, the company said.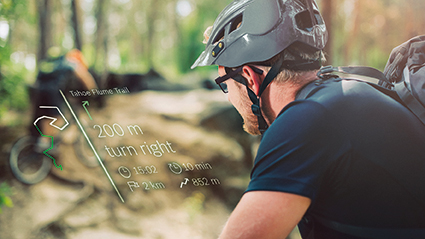 Smartglasses using the Light Drive technology will display information in the user's view with clarity. Source: BoschThe design does not feature an externally visible display or an integrated camera, which can be bulky and cumbersome. Previously, Bosch said that these types of displays were restricted to devices with physical displays such as smartphones and smartwatches.
Smartglasses eliminate the need for users to check phones and improve driver safety by providing hands-free, transparent heads-up navigation directions. The technology also allows for more apps and information to be given to users such as social media, control of audio playback and other relevant data.
The MEMS-based light scanner scans a holographic element (HOE) that is embedded in the lens of the smart glasses. The HOE redirects the light beam onto the human retina surface, painting a picture that is always in focus. Included in the module is the Bosch smart sensor BHI260, the barometric pressure sensor BMP388 and the BMM150 magnetometer to enable interface features such as multi-tap functions on the frame to improve operation of the glasses.
The technology is compatible with curved and corrective lenses as well so it is possible to wear prescription glasses. Bosch said the smartglasses also provide all-day optical transparency with minimal stray light sensitivity.
Bosch plans to bring the module to market in 2021 with smartglasses to follow later.
CES takes places Jan. 7-10 in Las Vegas.