Electronics component distributor Heilind Electronics has just added NorComp's M-SERIES metal shell connectors to its existing selection of harsh environment circular connectors.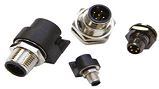 NorComp's M-SERIES Circular Connectors. Source: NorComp
M-SERIES Circular Connectors are designed with a waterproof cable-to-panel interface for demanding end use applications. These ruggedized connectors feature full metal shells for EMI/RFI shielding, as well as IP67/68 performance in both mated and unmated conditions.
Available in three sizes (12 mm, 8 mm, and 5 mm), the M-SERIES offers pin counts ranging from 2 to 8 positions. Additionally, the M12 and M8 models conform to industry standard bus specifications and are intermatable with a variety of competitive products.
Because they are more compact than rectangular connectors, M-SERIES connectors enable efficient use of mounting connectivity space for multiple design applications. Applications include military, industrial, and measuring equipment; industrial sensors and machines; computers and peripherals; and audio and video apparatus.