Chip sales from global vendors slumped in 2015, the result of what is expected to be a three-year period of declining or stagnant growth in the semiconductor market, according to new research from IHS.
Semiconductor revenues fell by 2% last year after quarterly growth was weak throughout every quarter of 2015, especially in the first quarter when the market fell 8.9% over the previous quarter, IHS says. This decline was the largest sequential quarterly decline since the market collapsed in the fourth quarter of 2008 and first quarter of 2009. Global revenue in 2015 totaled $347.3 billion, down from $354.3 billion in 2014, which follows growth of 8.3% in 2014 and 6.4% in 2013, IHS says.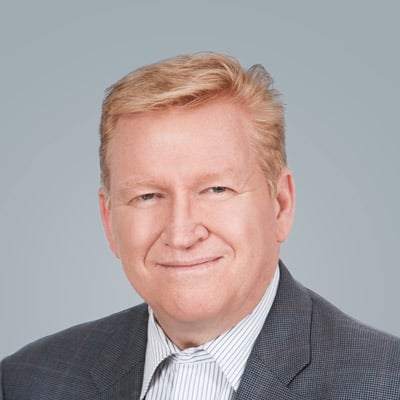 Dale Ford, vice president and chief analyst at IHSIHS forecasts this is the beginning of a three-year period of declining to stagnant growth for chip revenues. "Anemic end-market demand in the major segments of wireless communications, data processing and consumer electronics will hobble semiconductor growth during this time," says Dale Ford, vice president and chief analyst at IHS.
Chip growth is slated to hobble at a 2.1% compound annual growth rate between 2015 and 2020, and IHS forecasts that between 2020 and 2022 new products will come to market that will enable significant growth in the semiconductor market.
Mergers and Acquisitions Reshape Leaders
Because of the numerous merger and acquisitions that happened in 2015, the leader board for semiconductors has shifted. While Intel was able to hold onto its No. 1 ranking after completing its acquisition of Altera, Qualcomm slipped to No. 4 in the rankings as its buyout of CSR was not enough to counter declining revenues in the wireless market. NXP's acquisition of Freescale pushed the company to No. 7 after being No. 15 in the rankings in 2014.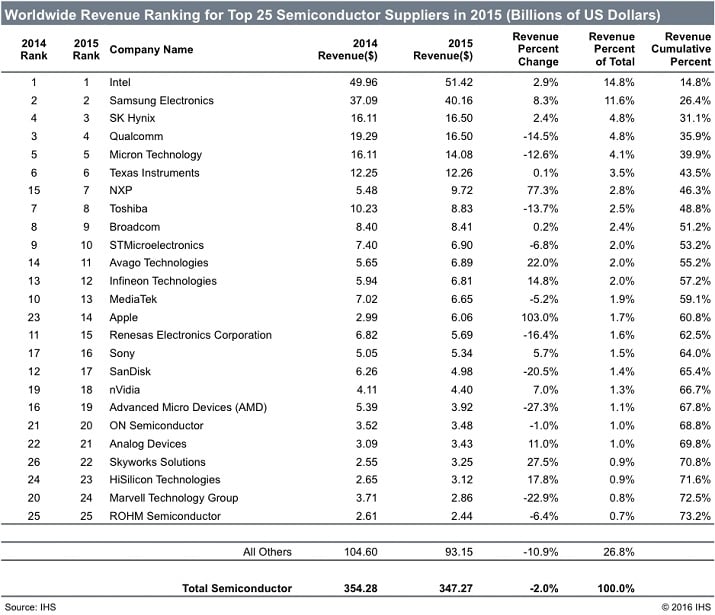 Mergers and acquisitions reshaped the leader board in the worldwide semiconductor market in 2015. Source: IHSOther companies in the Top 20 that jumped in 2015 included Infineon after it acquired International Rectifier, boosting it to No. 12. After Avago acquired Broadcom it leaped into fifth position overall. ON Semiconductor's acquisition of Fairchild Semiconductor should boost it up a few notches in the rankings, IHS says.

Of the Top 25 semiconductor suppliers, 14 companies achieved growth in 2015—a direct contrast to the overall semiconductor market, where among the 285 companies tracked by IHS less than 42% achieved positive results last year.