Littelfuse, Inc., has introduced two series of high reliability TVS Diodes that are upscreened for use in aerospace, military, industrial and medical applications. The SMCG-HR and SMCG-HRA Series High-Reliability TVS Diodes are provided in DO-215AB packages and designed specifically to protect sensitive electronic equipment from voltage transients induced by lightning surges and other transient voltage events. They have been specially screened and sorted for use in DC line protection in avionics and other applications that demand high reliability. In addition to their availability as off-the-shelf components, customizable upscreening and sorting process flows are available to address specialized requirements.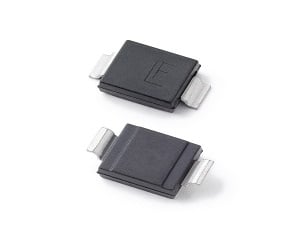 Littelfuse SMCG-HR high reliability TVS diodes (Image courtesy of Littelfuse).
The diodes are suited for a broad range of aviation-related applications, including fly-by-wire flight control, engine control, power supply/distribution systems, displays and other electronic equipment in the cockpit, air conditioning and infotainment systems, radar systems, advanced airborne digital computers, and airfield lighting.
Standard voltage ranges (5 to 120 V for both uni- and bi-directional) and power ratings make the diodes easy to design into a range of applications. Gull-wing lead wire design guarantees good manufacturability in printed circuit board and assembly processes.
The TVS Diodes are available in tape and reel packaging (13-inch reels) in quantities of 1,500 pieces. Off-the-shelf samples of these products are currently available for customer testing.