A recent survey among U.S. mayors finds that light emitting diode (LED) and energy efficient lighting is one of three top priorities cities are using to meet energy and climate goals.
At the recent 84th Winter United States Conference of Mayors meeting in Washington D.C., the survey shows that LED lighting, solar electricity systems and low-energy buildings are among the most promising ways to curb climate emissions and to reduce energy in their cities. Among the findings, the U.S. mayors call on Congress and presidential candidates to invest and protect America's cities and their metropolitan areas by accelerating deployment in these and other energy technologies.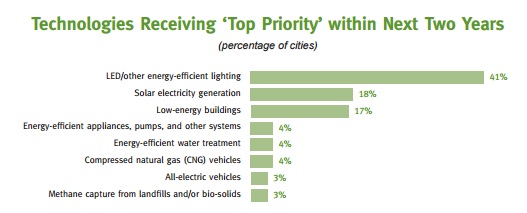 A survey of U.S. mayors found that 41% of respondents find LED/energy efficient lighting is a top priority. (Source: United States Conference of Mayors)
More than 10 cities are making LED/energy efficient lighting technology their No.1 goal in the next 24 months with 41% of the respondents saying it was the top priority, the survey says. This is up from just two years ago when LED lighting only garnered 29% of city mayors' attention. Solar electricity and low-energy buildings came in at 18% and 17 % of top priority, according to the survey, about the same percentage as in 2014.
Among the mayors in the survey, public buildings and outdoor lighting remain the top services that cities are targeting for improved energy efficiency and reduced energy consumption with 77% of cities directing their energy efforts to public buildings with 65% prioritizing outdoor lighting. Compared to two years ago, outdoor lighting grew from 54% to 65% while public buildings dropped from 83% to 77%, the survey says.
Among the significant challenges faced by the mayors, budget/local funding constraints were the No.1 concern among U.S. mayors at 67% with the high up-front costs of energy efficient technology coming in second at 49% and limited or no federal funding coming in third at 33%.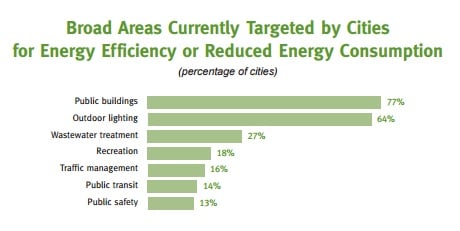 The survey says public building and outdoor lighting were the top services cities are targeting. (Source: United States Conference of Mayors)
"Mayors continue to lead the way on innovation and deploying new technologies in their cities. And, the survey findings show that they could do much more if they had better partners helping cities accelerate the deployment of these technologies which we know as so vital to reducing carbon emissions and energy use throughout the U.S.," says New Bedford, Mass. Mayor Jon Mitchell, chairman of the Conference's Energy Committee.
The mayors say the energy savings initiatives are practical solutions to help reduce energy consumption and help climate goals, yet the commitment from other members of the government are not enough to help mayors and cities to do more. The Conference of Mayors says the survey U.S. mayors continue to lead the charge in adopting energy efficient LED lighting and a desire for connected technologies for greater energy efficiencies and to provide more control over cities' lighting infrastructure.