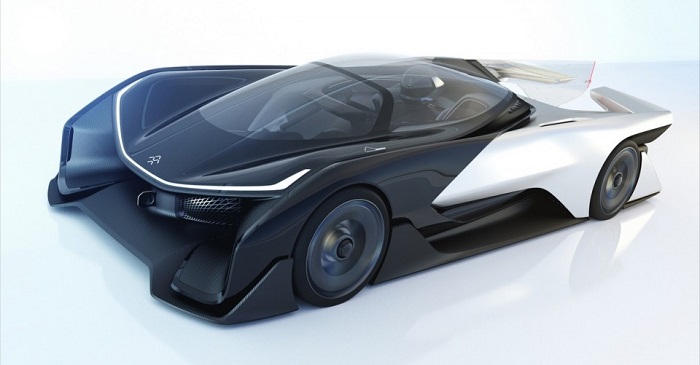 Faraday Future's FFZero1 Electric Vehicle
Tesla is unquestionably the Big Kahuna in performance electric cars. But as any gunslinger in the Wild West could tell you, it's easier to become number one than to stay that way. At CES a new automaker rode into town aiming to prove it's the fastest gun in the e-car world. California-based Faraday Future debuted its sleek electric concept car, which it has dubbed FFZero1, behind claims that it can exceed 200mph (321 kph) and accelerate from zero to 60mph in less than three seconds.
The 1000 horsepower vehicle employs four motors and has already captured the nickname "Tesla Killer," in part because like Tesla's Elon Musk it is backed by a billionaire investor, China's Jia Yueting, the founder and CEO of Chinese media firm LeTV, who is ranked by Forbes as China's 17th richest man. Jia won $335 million worth of incentives from the state of Nevada last month to build a $1 billion manufacturing facility in a Las Vegas suburb.
FFZero1 features an adjustable chassis that can accommodate strings of batteries; a rows of batteries can be removed or added. The number of batteries used would depend on the size of the car (its size will be determined when production specifications are finalized—FFZero1 incorporates a proprietary engineering platform model it calls the Variable Platform Architecture, said to support a range of vehicle types). Race car type aerodynamic "tunnels" have been incorporated into the design to channel air through the vehicle to reduce drag and cool the batteries.
The vehicle's white carbon fiber interior features a smartphone mounted in the center of the steering wheel, the Halo Safety System supporting the driver's head and neck and a helmet that feeds the driver water and oxygen. The former can be found in race cars but the latter is believed to be a first for any road-based vehicle (hydroplane racing boats in the Unlimited Class provide oxygen as a safety feature in case the boat overturns and the driver finds him/herself under water). The instrument panel is also designed to gather biometric data about the driver.
Until revealing FFZero1 little has been known about the 18-month-old Faraday Future except for the fact that it reportedly has been poaching talent from rivals such as Tesla and BMW. Based in Gardena, California, near Los Angeles, the company now has more than 550 employees.
Faraday, like Tesla, plans to aim its cars at buyers of luxury gasoline-powered cars in the United States.