The automotive industry is going through a very large transition. Whereas the automotive sector is typically a slow-moving one, with vehicle development cycles usually lasting four to five years, now things are rapidly changing with the influx of hybrid electric and electric vehicles (EV).
As consumer interest grows for these vehicles, non-traditional players have entered the fray and are promising to battle against entrenched automotive OEMs that have for decades dominated the market. However, despite the promise of lowering carbon emissions and the rise in countries changing emission targets to help the environment, electric vehicles currently only occupy less than 1% of the market share in most countries.
And according to IHS, this number isn't going to change any time soon. The market research firm forecasts that by 2021, EVs will only represent 2% of all vehicle production with the remaining portion being traditional internal combustion engine cars and hybrids.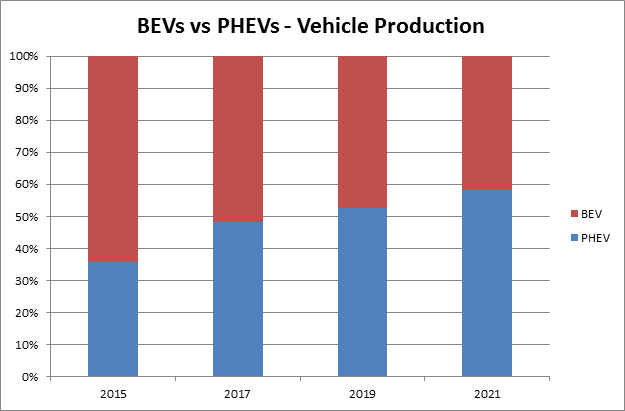 Production of plug-in hybrid electric vehicles will outpace that of electric vehicles by 2019 and continue through 2021. Source: IHS Interestingly, IHS sees plug-in hybrid electric vehicles (PHEV) outpacing EVs in the coming years in terms of production as these cars allow OEMs to meet emissions targets while remaining profitable. PHEVs are somewhat similar to conventional cars and are seen as a good stepping stone toward full electrification by educating consumers about charging and batteries. The difference between PHEV and a traditional hybrid is that a PHEV can be charged through a cable while hybrids cannot.
Non-Traditional Players Rise
The automotive market has been slow to change to new technologies, adopting a "wait and see" approach rather than being proactive in the market. Non-traditional automotive companies and automotive start-ups have seen interest growing for both EVs and self-driving vehicles, and they have gone feet-first into the market.
"The recent rise of battery electric vehicle technology has opened the door for new entrants to the market," says Ben Scott, Analyst for Automotive Electronics at IHS. "Before battery electric vehicles, implementing internal combustion engine technology required years of experience, which was a barrier to automotive start-ups. Battery electric vehicles allow new players to enter the automotive market, but it's important to note that electric motor/battery skills are required and capital costs will be high."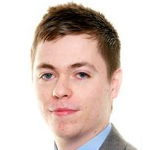 Ben Scott, Analyst for Automotive Electronics at IHSTesla Motors is the biggest of these non-traditional automotive OEMs, having taken a high-value luxury approach to its EVs. But the biggest splash was made with the introduction of the Tesla Model 3, a more affordable (starting at about $35,000) EV that will be available sometime in 2017. Tesla says it has managed to gain 400,000 pre-orders from consumers for the EV.
But beyond Tesla, the market is seeing more and more companies enter the market. Most recently, the mysterious Faraday Future, an EV start-up backed by a Chinese billionaire, broke ground on a $1 billion future vehicle plant in the Las Vegas area (Read: EV Startup Breaks Ground on $1 Billion Factory) after not much being known about the company at all.
Even companies that have been around for a long time and have not been associated with automotive production are getting into the mix. Dyson, mostly known for its vacuum cleaners, has been rumored to be developing a battery electric vehicle with funding coming from the U.K. government.
In China, Le Holdings Co. Ltd. (LeEco) debuted an EV concept car, called the LeSEE, that would also be connected and smart compared to current vehicle offerings on the market. LeEco is just one of more than a dozen Chinese-funded electric car start-ups that will likely compete in domestic China and on the global stage.
With EV development still in its infancy, we may have just scratched the surface in terms of the number of competitors that will emerge to challenge automotive OEMs in the market. And for that matter, every current automotive OEM entrenched in the market has its own plan for electric vehicles, PHEVs and future hybrids.
To contact the author of this article, email engineering360editors@ihs.com.