ams AG extended its family of ultrasonic flow meter ICs with the TDC-GP30-F01, which the company characterizes as a complete hardware and firmware measurement solution for cold water meters. The chip measures the difference in time it takes ultrasound waves to travel upstream and downstream, providing extremely repeatable, temperature-stable and accurate timing measurements. The precision and stability of its flow measurements allow it to detect water leakage rates as low as 0.5 liters per hour, which ams says is many times lower than the minimum water flow measured by widely-used mechanical water meters.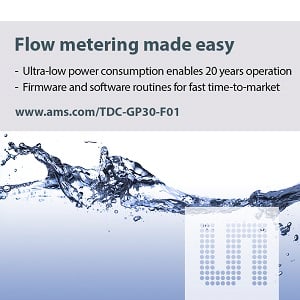 ams AG's TDC-GP30-F01 ultrasonic flow meter IC lets designers quickly implement a complete ultrasonic water meter without developing their own firmware. (Source: ams AG)The TDC-GP30-F01 provides a direct connection to ultrasonic transducers, and only requires the addition of a simple microcontroller to operate a water meter's peripheral functions, such as a display and connectivity. The chip includes an ultrasonic flow-measurement front end, a low-power 32-bit processor and firmware for converting the sensor's analog outputs to measurements of cold water flow, volume and temperature.
Designers of water meters can use the TDC-GP30-F01 to implement a complete ultrasonic water meter without developing their own firmware. (Users who do wish to add their own firmware code can do so. For example, ams says that the TDC-GP30-F01's firmware may readily be extended to implement a heat meter application.)
Drawing a continuous current of just 8.5µA while capturing eight flow measurements per second, the chip can operate up to 20 years on the energy available from a single AA lithium battery. The TDC-GP30-F01 provides an SPI or UART or interface to an external microcontroller, or a pulse interface to emulate a conventional mechanical water meter's signals. Users of the ams device may therefore replace their former mechanical flow measurement system with a modern non-invasive flow meter without the need to rewrite their application software.
TDC-GP30-F01 samples (including a demonstration kit) are available now. Volume production for the TDC-GP30-F01 can be ordered. Unit pricing is $9.50 in order quantities of 1,000.