Texas Instruments has introduced a family of fully programmable, pin-selectable and fixed-frequency 7mm-by-5mm differential oscillators that are designed to provide the industry's lowest jitter of 90 femtoseconds (fs). The low jitter enables designers to optimize signal integrity and reduce data-transmission errors in performance-critical applications.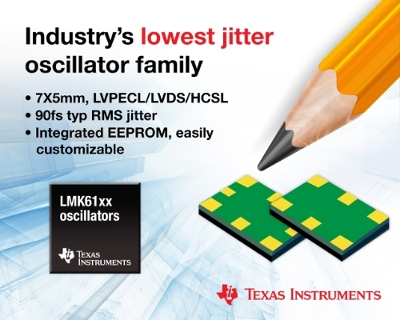 Low jitter is the main feature of Texas Instruments' LMK61xx family of oscillators (Source: Texas Instruments).
The LMK61xx oscillators are designed to enable easy customization, frequency margining and support for multiple frequencies on one device to clock field-programmable gate arrays (FPGAs), analog-to-digital converters (ADCs), digital-to-analog converters (DACs) and high-speed serial links. The product family includes programmable, pin-selectable and fixed-frequency devices, offering low-voltage pseudo emitter-coupled logic (LVPECL), low-voltage differential signaling (LVDS) and high-speed current-steering logic (HCSL) output formats, and frequencies ranging from 10 MHz to 1 GHz.
The programmable device has an I2C interface, as well as an on-chip electrically erasable programmable read-only memory (EEPROM) with 100 write cycles, enabling designers to customize the start-up frequency. Glitchless fine/coarse frequency margining is designed to enable designers to ease compliance and stress testing of their systems during prototype design verification.
TI is offering an oscillator customization tool and evaluation modules to help designers evaluate the new oscillators. In addition, designers can use TI's WEBENCH Clock Architect tool to simplify designing with TI clock and timing devices. The tool can recommend a single- or multiple-device clock-tree solution from a broad database of devices to meet system requirements.
The oscillators come in a quad flat no-leads module (QFM) package. List price for the 100-MHz LVPECL oscillator starts at $4.10 each in 1,000-unit quantities.