Wireless charging, both near field and longer distance, has been an attractive and intriguing possibility for many years (Google "Nicola Tesla" to confirm this). It has been used successfully in constrained products ranging from implanted medical devices to the rechargeable tooth brushes. In recent years, it has received significant interest and design effort for mass-market devices such as smartphones and tablets, where it could allow fully sealed product enclosures (especially attractive in military, medical, industrial and other harsh environments) and also prevent incorrect, faulty, or malicious connections from causing glitches or failures upstream in the power-supply chain.
Despite this potential, it has only become viable in the past few years, as sophisticated ICs are available to manage the surprisingly complex wireless interface, with several competing standards vying to dominate this arena. Part of the problem, of course, is the classic "chicken vs. egg" battle— end-product vendors won't incorporate it until there are enough wireless charging pads, and there won't be enough pads until a critical mass of devices have the capability. Practical difficulties in wireless charging also arise when, for example, a common object such as a paper clip gets between the charging pad and the device to be charged.
Overcoming these and other problems, the LTC4125 wireless power transmitter IC from Linear Technology Corp. is the "complement" for various wireless receivers. This IC is a full-bridge resonant driver which can deliver to 5 W wirelessly to a receiver. It is the core transmit-circuit component in a complete system comprised of transmit circuitry, transmit coil, receive coil and receive circuitry, Figure 1.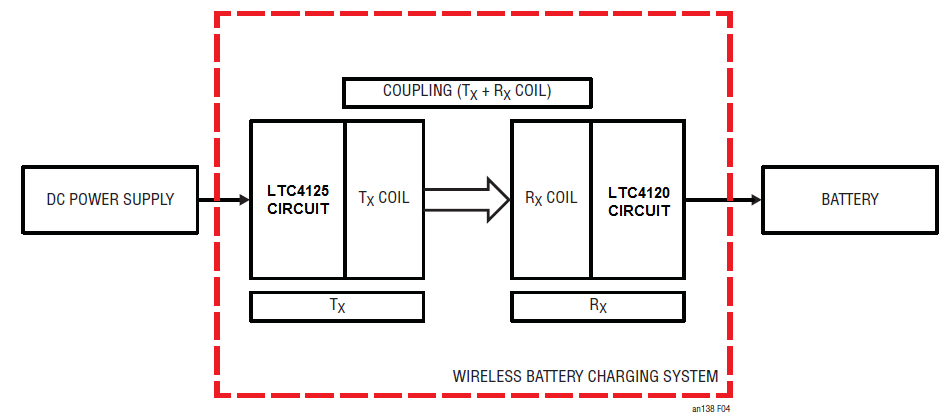 The block diagram of a wireless charging system shows the DC source, the battery to be charged, and interposed circuitry including coupling coils (source: Linear Technology Corp.).
The LTC4125 wireless power transmitter enhances a basic transmitter device by adding three key features:
•An AutoResonant function that maximizes available receiver power. It automatically adjusts its drive frequency to match the LC-network's resonant frequency, thus enabling the device to deliver maximum power from a low-voltage input supply (3 V to 5.5 V) to a tuned receiver via loosely coupled coils;
•an Optimum Power Search algorithm that maximizes overall wireless power system efficiency, by using periodic transmit-power searches and adjusting the transmission power based on the receiver load requirements, Figure 2;
The periodic search function of the LTC4125 sweeps the pulse width to adjust the tank voltage, increasing it until the receiver power received matches receiver load (source: Linear Technology Corp.).
•Foreign object detection to ensure safe and reliable operation when working in the presence of conductive foreign objects, Figure 3.
A large shifts versus expected the frequency indicates a fault due to a foreign object (source: Linear Technology Corp.).
The device stops delivering power in a fault condition, or in the case of a detected foreign object.
These transmit-power optimization and foreign object-detection features do not require any direct communication between the transmitter and receiver circuits, greatly simplifying protocol and system management issues. As a result, the LTC4125 works over a wide range of transmit-to-receive coil-coupling factors without digital communication, which avoids the need for complicated signal-processing hardware and software to support a communication protocol. Designs based on this IC are capable of transmission up to 10 mm, yet can tolerant poor coil coupling due to misalignment.
The LTC4125 is available in a low profile (0.75mm high) 20-lead 4mm × 5mm QFN package with backside metal pad for enhanced thermal performance, and is priced at $4.00 (1,000s pieces).