"The shooter fired hundreds, hundreds, of rounds, for minutes on end." That's from a CNN newscast this morning, talking about what is merely the latest in a long list of terrorist attacks that have made headlines since the September 11, 2001, destruction of the World Trade Center in New York City put terrorism front and center of the world's consciousness.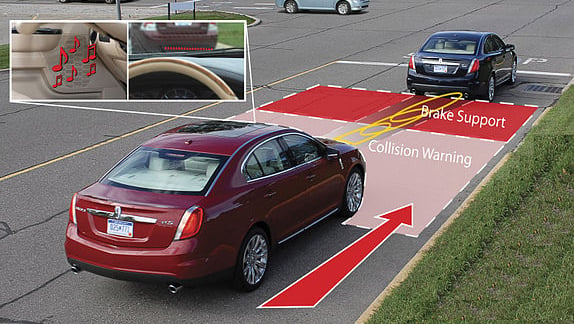 Collision warning system with brake support. Image credit: Ford Motor Company/CC BY 2.0, via Wikimedia CommonsUnlike the politically-motivated attack which we typically think about when considering terrorism, yesterday's mass shooting Technology to Take On Terrorism — at a country music festival in Las Vegas, Nevada — seems to have been carried out by a 64-year-old man named Stephen Paddock, who held no allegiance to political terror groups and used a cache of "traditional" weaponry. The incident will likely lead to further debate about the efficacy of more stringent gun control legislation. But it's a debate which has raged for many decades, and does little to address the willingness of would-be terrorists to carry out attacks by using any means necessary.
Vehicular assaults, for instance, involve ramming a car into a crowd of pedestrians, and have become commonplace in the news. I was nevertheless a little stunned to see, while searching for information online about the higher-profile Las Vegas attack, there was yet another vehicular assault yesterday, too – in the Canadian city of Edmonton, capital of the province of Alberta. And Wikipedia's entry on the subject lists no less than 10 others that have already taken place around the globe since the beginning of this year.
There have also been bombs made from common consumer goods, cyberattacks caused by hackers with a modicum of skill, the possibility of drones being used as weapons of mass destruction… and the list could go on. Heck, even the 9/11 attacks themselves were made possible by terrorists who boarded the planes carrying common utility knives.
It would seem that no place is safe – from a marathon race in Boston, Massachusetts, to a first-grade classroom in Newtown, Connecticut. As a technology writer, I'm inclined to ask: Can technology do anything to combat terrorism?
Turns out that there are some hopeful developments.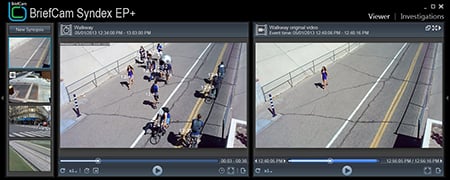 BriefCam's Syndex platform can filter out moving objects matching specified parameters, such as color. Image credit: BriefCam.Advanced emergency braking systems (AEBS) began to be mandated in the European Union in November 2013. The systems are designed to first alert the driver of the possibility of a collision through optical, acoustic or haptic signals; if the driver takes no action, the brakes are automatically applied. Requirements are being introduced gradually, but they were enough to mitigate the effects of a late December 2016 incident in which a truck was driven into a street-based Christmas market in Berlin, Germany. A dozen people died — but the death toll could have been far higher, if not for the role AEBS played in stopping the vehicle after a travel of about 70-80 meters (250 feet). Just five months before, by comparison, a Bastille Day attack in Nice, France, was carried out by an older truck not equipped with the system – and resulted in a casualty toll that was more than seven times greater.
On a side note, automatic emergency braking is in the process of being rolled out by makers of U.S. automobiles, although it is progressing as an agreement, not a mandate. The National Highway Traffic Safety Administration (NHTSA) has said that, by approaching it this way and bypassing the fight over "what government can force manufacturers to do" versus what "manufacturers can avoid doing," the systems will likely be in place sooner. They're probably right.
Video analytics that effectively condense hours of surveillance footage into minutes, displaying changes or movements in the frame, are another technological advance that has been used as a counterterrorist tool. Analytics developed by Israel-based BriefCam made it possible for the FBI to narrow down their search for the perpetrators of the 2013 Boston Marathon attack. Within a matter of a few days, the Bureau was able to go from sifting images of thousands of people at the scene to releasing photos of two men wearing backpacks who were the prime suspects. Analytics can also be used to prevent incidents before they happen: software can be programmed to send an audio or visual signal the moment an anomaly shows up on the multiple security feeds that comprise a video surveillance system.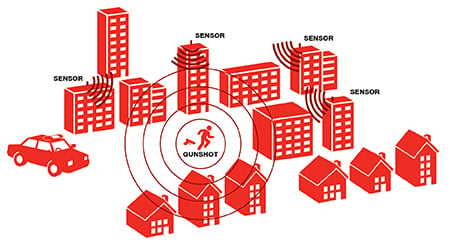 ShotSpotter sensor diagram. Image credit: ShotSpotter.
There are also gunshot detection systems that employ acoustic or optical sensor technology to pinpoint the location of gunfire almost as soon as it occurs, then send information to first responders. The technology is expensive – according to MarketWatch, an annual subscription to ShotSpotter, which is currently available in 90 cities worldwide, costs a municipality between $65,000 and $95,000 per square mile. The shooter in yesterday's Las Vegas incident was located quickly thanks to technology, actually, albeit a far more rudimentary one: smoke detectors reacting to the small amount of smoke associated with each round of gunfire allowed police to find his hotel room in a matter of about 20 minutes.
Those are just a few developments; it's a cycle, really. With each new manifestation of terrorism comes an innovative countermeasure to combat it — and then, of course, a new manifestation to counteract the countermeasure. Perhaps the more important question where technology is concerned is how we might use it to keep ahead.
Along those lines, I think it's worth mentioning a technology that seems promising: smart guns. Also known as personalized firearms, "smart guns" are weapons that can be fired only by an authorized user. They may be locked by a variety of technologies, including radio-frequency identification (RFID) chips, fingerprint recognition, magnetic rings and so on. Such technology might have prevented massacres like the one in Newtown, where the perpetrator used a semiautomatic rifle stolen from his mother.
And yet… resistance to the promise of smart guns has effectively arrested their development. There are practical objections, of course, such as the possibility of mechanism failure; and, recently, a white-hat hacker that goes by "Plore" proved that such guns can be hacked. But the biggest stumbling block, I'd say, remains political. Opponents of the technology believe that it represents the first step toward far more sweeping restrictions of second-amendment freedom. And personally, I get that. But I can't help think that it's the very same freedom that allowed a "lone wolf" terrorist to perpetrate, within the past 24 hours, the worst mass shooting in modern U.S. history.