Researchers at King Abdullah University of Science and Technology (KAUST) have demonstrated a reversibly bi-stable material to demonstrate flexible electronics. They also introduced a performance metric, the cumulative impact budget, which considers the impact force imparting an impulse on the silicon fabric during mechanical substrate deformation.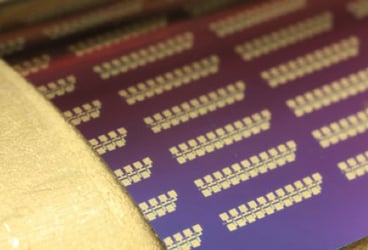 Transferred MOSFET silicon die onto metallic bi-stable structure. Image: Prof. Muhammad Mustafa Hussain, KAUSTThe team investigated mechanical and electronic aspects of flexible, inorganic field-effect transistors supported by a mechanically bi-stable metallic substrate. Muhammad Mustafa Hussain, associate professor of Electrical Engineering, explains that the work combined basic and applied studies with findings that are supported by experimental data, such as semiconductor device analysis, scanning electron microscopy, energy-dispersive X-ray and high-speed imaging. Also, it was supported by theoretical discussion including, impulse-momentum theory and approximation, as well as prediction of the kinetic energy losses and magnitude of impulsive forces with respect to impact speeds.
Nasir Alfarai, a PhD student in the group and the first author of the paper, says that the work was the first demonstration and discussion of the effectiveness of a reversibly bi-stable material for free form electronics. The material is a porous iron-carbon metal alloy, which is inexpensive and commonly used in the fabrication of commercially available cycling safety wristbands and ankle bracelets for orthopedic health care.
The team attached a flexible silicon-based metal-oxide-semiconductor field-effect transistor (MOSFET) on a mechanically flexible and optically semitransparent porous silicon onto a metallic bracelet.
This material platform has two stable and reversible mechanical states; stretched and rolled. Results show that although the distribution of nanopores throughout the structure allows the metal alloy to internally absorb strain energy and hence, achieve flexibility, the transistor devices on the thin silicon fabric maintained their integrity after accumulating an impulsive force budget about 300x higher than the force that average adults experience as a result of their weight.
Reversibly bi-stable flexible transistors can be used in applications such as opto-electronic devices where LEDs are controlled by reversibly bi-stable flexible transistors. As such transistors can handle high drive currents, they can be used to realize foldable display devices.
It can also aid in the development of practical orthopedic tools and technologies that employ electronic devices required to handle high physical force loads.
To contact the author of this article, email engineering360editors@ihs.com