Low-voltage DC-DC regulators do not get much attention, but they are "quiet heroes" essential to reliable, consistent and efficient circuit performance. Their function is clear; take a DC source that may be anywhere from stable (regulated) to fluctuating (lightly to barely regulated), and transform it into a steady, stable, tightly regulated DC voltage, at a lower or higher voltage. The consequences of poorly regulated or inadequate supply rails are erratic, intermittent, frustrating system performance and mysterious, often unrepeatable failure to perform to specification.
With a tiny number of exceptions, every electronic circuit has at least one regulator ICs, and most devices have more; it is not unusual to have tens of them scattered throughout a circuit board. In some cases, this is because different DC-voltage rails are needed on the board. In other cases, even if the same nominal rail voltage is needed across the board, it may be better design practice to "sprinkle" these regulators close to their loads with respect to power loss, cost and PCB layout integrity, rather than routing power from a centralized location.
Two very different architectures are used for DC-DC regulators. Both the linear and switching approaches have distinct attributes along with relative strengths and weaknesses, and one is likely a better fit in some applications situations than the other. Basic regulator performance parameters are input-voltage range, output voltage rail, output current and input and output regulation. However, these are only the starting points of the regulator performance domain. Other factors include accuracy, transient response, stability (temperature coefficient), efficiency (and at different load factors), electrical noise, footprint, completeness, and of course, cost.
Regulator architecture basics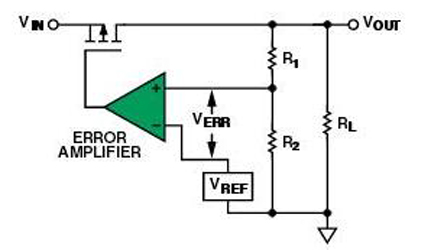 The basic topology of a linear regulator (LDO) consists of an error amplifier, which minimizes the difference between the actual output voltage and an internal reference voltage. Source: Analog Devices, Inc. The linear regulator is the older of the two approaches. In this design, an error amplifier (op amp) compares its output voltage to a fixed voltage, usually provided by a specialized reference diode, shown on the left. The closed-loop nature of the design forces the amplifier to maintain the output at the reference voltage, regardless of load. The most common form of linear regulator is also referred to as the LDO (low-dropout regulator) and is usually packaged as a simple three-terminal device (input, output, ground leads); most LDOs need only one or two discrete, low-value capacitors to stabilize their closed-loop performance.
The switching regulator has a more complicated approach. The input DC is "chopped" and pulse-width modulated to charge/discharge a capacitor and thus maintain, via feedback and a controller, the desired output voltage. The switching frequency is usually between 50 kHz and several MHz, depending on specific regulator; most switchers operate at several hundred kHz. The voltage on the capacitor has ripples (output noise) at the switcher output due to the switching action, and so the output must be filtered to reduce this to an acceptable level.
Most switching regulators need about half a dozen discrete components such as inductors, which must be located immediately next to the IC; some vendors offer the entire circuit of the IC and its passives in a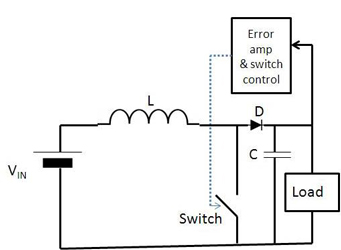 In a switching regulator, the duty cycle of charging and discharging a capacitor is used to modulate the output voltage, thus maintaining a constant value despite load changes. tiny, easy-to-apply module.
Delight in differences
Both the linear LDOs and switching regulators have important attributes beyond basic regulation performance. LDOs can only regulate down (such as 12-V input to 5-V output), which is known as buck mode, and need at least a few volts of operating headroom to maintain their regulation loop. In sharp contrast, switchers can be designed to regulate either up (boost mode), which means a 5-V input can be converted into a 12-V output. Some switchers are designed specifically to provide seamless transition between buck and boost mode, so they can operate from a nominal 3-V battery and provide , for example, 2.5 V output even as the battery drains down from 3 V (buck mode) to 2 V (boost mode).
Due to their switching action, switching regulators tend to be much noisier than linear devices, which are almost noise free. This is critical for power rails used with or near components or circuits that are sensitive to any noise on their DC rails or radiated nearby. There are some switchers available that are designed for ultra-low noise output, with a noise figure of merit that is quite close to that of the LDO.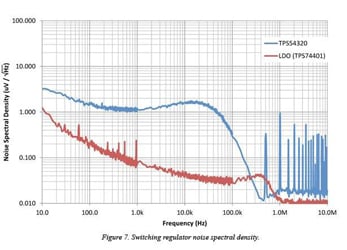 The switching regulator is inherently noisier than a linear regulator; here shown for a TPS54320 switcher compared to a TPS74401. Source: Texas Instruments.The other major differentiator between linear and switching regulators is in their apparent efficiency. Depending on how it is applied, an LDO's efficiency ranges from about 50% to 70%; in contrast, a switcher's efficiency usually starts at about 60% and can reach 90% and higher. This has led to the simple, but not-quite-true guideline that switchers are better for efficiency than linear regulators.
While this may be true in a broad sense, it also depends on the specifics of the situation. For example, the efficiency of most switchers drops rapidly when they are used at less than about 60-80% of their rated load. Also, the load's duty cycle plays into overall energy consumption and efficiency. Billions of LDOs are used every year, often "sprinkled" around a PCB to produce highly localized regulation at lower current levels close to the load. As evidence that neither is automatically a better choice, some vendors offer ICs that contain both a switcher and a linear regulator in the same device, each providing some attributes tailored to different function in a circuit have.
Making the choice
The decision process clearly begins with top-tier requirements: output voltage and current, and input voltage, followed by a close examination of the secondary-level requirements. If you need boost or boost-buck performance, then the switcher is the only option. However, if you need buck regulation, there are some general guidelines with which to start.
For current above several amps and power rating of about 25 to 50 W or above, the switcher is almost always the best choice due to its efficiency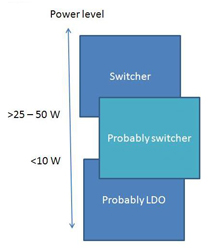 The switcher is almost certainly the preferred regulator at higher power levels and also more likely at mid-range levels; at the lower levels, there is a good case for the LDO in many cases, but switchers can also be the better choice.and consequent low dissipation. At the other end of the scale, for very low currents under about 1 A and power levels under about 10 W, the LDO is often quite competitive with the switcher in performance and cost. In between, the general tendency is to consider a switcher first, but there are some exceptions.
Who makes DC-DC regulators? The better question is: who doesn't make them? There are dozens of suppliers ranging from top-tier, well-known analog/power-related IC vendors to specialty regulator-only IC suppliers. Some designers prefer to start their selection process by looking at vendors with whom they are already comfortable for other components, and use the selection guides provides by their preferences. Other engineers prefer to scan the entire field, in which case selection guides produced by distributions are most useful.
While many regulators are unique, sole-source components, there are also many which have second or alternate sources, and their availability may also affect the decision. Also note that there are regulators that target specialized applications such as providing the exact set of voltage rails and current output combinations which a specific device (model XYZ FPGA from vendor ABC) requires.
The sheer number of regulator varieties, versions, vendors and features can make the decision process complex. It is also often an iterative process that requires back-and-forth, and can only become firm as the project's ICs and voltage/current also needs to become firmer. Regardless, skimping on power regulators is false economy and usually results in nasty headaches in prototype debug as well as problems with products in the field.
Question or comments on this article? Contact an editor: engineering360editors@ihs.com
References:
http://focus.ti.com/download/trng/docs/seminar/ Topic 9 – Understanding LDO dropout.pdf
http://www.analog.com/low-dropout_regulators.htm
https://www.maximintegrated.com/en/app-notes/index.mvp/id/737