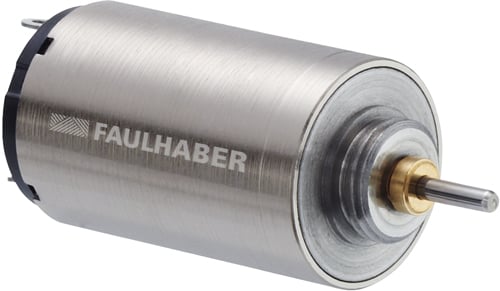 Micromo, part of the Faulhaber group, announced today the launch of their new compact DC motor producing 24 percent more torque per watt than equivalent competitors' motors of the same dimension. A mere 10 mm in diameter and 16 mm in length, the Faulhaber 1016 SR motor is ideally designed for applications requiring maximum power in confined spaces, such as precision tools, active prostheses or special optical devices.
The new motor—combinable with existing Faulhaber drivers and gearheads—can reach a continuous torque of 0.92 milli Newton-meter (mNm) without sacrificing its low-power consumption and its high efficiency while keeping vibrations and audible sound at a minimum.
A detailed datasheet can be found here: https://www.micromo.com/media/pdfs/1016_SR_FMM.PDF
About Micromo
Micromo (Faulhaber Group) specializes in high precision, micro drive systems, servo components and drive electronics. The product range includes small DC motors, brushless DC motors, piezo motors, stepper motors, linear servo motors, gearheads, encoders and motion controllers that are used in the most demanding applications in markets such as medical, aerospace, optics, robotics and semiconductor equipment.