U.K.-based positioning technology manufacturer Overview Ltd. has announced a direct-drive, integrated servomotor designed to deliver high-positional accuracy with fast, smooth and silent motion. The Miranda variant of the Servotorq series of direct-drive, integrated servomotors combines highly efficient, in-house designed brushless DC motors, advanced controllers, high-performance servos and precision rotary position encoders into perfectly integrated, direct-drive packages, complete with I/O and communications interfacing.
With a wide dynamic speed range of 0.05 to 720°/second, Miranda's integrated drive control electronics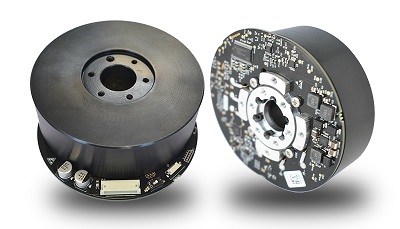 Source: Overview Ltd.and software provide closed-loop servo control, delivering position, velocity and acceleration control. Miranda also provides rapid and precise positional control, with 0.007° repeatability and zero-backlash and is robust to external dynamic disturbances, especially impulses and vibrations.
Developed to meet the evolving challenges of Overview's customers, Miranda fills a torque gap within the Servotorq family delivering a peak torque of 1.0 Nm. The compact footprint and low power consumption offer integrators a compelling solution for simple installation and cost-effective use in a range of applications including gimbals, PTZ mechanisms, robotics and many more.