Rambus Inc. has had a tumultuous relationship in the semiconductor industry.
Traditionally known as a memory intellectual property (IP) company, in its early years, it did not make many friends in the memory industry by suing a number of companies over licensing and royalties of the companies patents. Some of these legal battles lasted more than a decade before finally resolving the last of the lawsuits with Micron back in 2013.
Now, the Sunnyvale, Calif.-based company will get into the fabless semiconductor business by developing server memory chipsets for the enterprise and data center server markets. The first in a planned series of chipsets, the RB26, is a DDR4 JEDEC-compliant memory module chipset designed to accelerate data-intensive applications such as real-time analytics, virtualization and in-memory computing.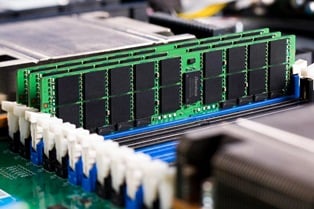 Rambus will begin making R+ DDR4 chipsets for use in servers and data centers for the first time. Source: Rambus Up until now, Rambus has been developing memory technologies that other companies license for use in computers, laptops and handheld devices. The company licensed its technology to not just Micron, but all of the leading memory semiconductor companies. With this new business strategy, Rambus will be in direct competition with some of these memory semiconductor vendors. However, the company did say it plans to sell its products to these memory developers as well.
Throughout its history, the company has had a close relationship with Intel Corp. to ensure that its IP works well with Intel microprocessors and chipsets. In this new phase, Rambus will work closely with everyone in the memory value chain in order to ensure a better experience for the enterprise and data center market. With Intel fast-tracking the move to DDR4 in its own processors, it seems that this relationship between the two will continue.
While the company has not announced which foundry will be building its new memory chipsets, the company previous relationship with Globalfoundries, who is moving quickly to advanced process technologies to compete with Taiwan Semiconductor Manufacturing Corp. (TSMC), might be a natural fit for the company.
Dr. Ron Black, president and CEO at Rambus, says in a statement that the introduction of this new chipset is a natural progression for the company. "Expanding our offer beyond IP into chips with standards-based offering that feature leading-edge performance and advanced functionality amplifies our growth strategy and furthers our engagement with the market," he says.
Questions or comments on this story? Contact engineering360editors@ihs.com
Related links:
News articles:
Cypress HyperFlash Delivers Low Pin Count, 333 MBps of Read Bandwidth
First All-Flash DDR4 Memory Module Lowers Datacenter Costs by 70%