Cypress has introduced a 256Mb, 3.0V S26KL256S HyperFlash device, which is the latest addition to the industry's first NOR Flash memory family that supports the high-bandwidth, low-pin-count HyperBus interface.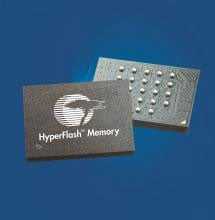 The HyperFlash device by Cypress. Source: CypressSuch high-performance applications as automotive instrument clusters, industrial automation, communication systems and medical equipment that need the highest read bandwidth to enable the fastest boot time for instant-on requirements, are the focus of the device.
Running at frequencies up to 166MHz, HyperFlash products can achieve Double-Data-Rate (DDR) read bandwidths as high as 333 MBps for 1.8V products and 200 MBps for 3.0V products. The 256Mb HyperFlash device is offered in a space-saving 48-mm2 24-ball package, delivering high reliability and extending the temperature range of -40°C to 125°C.
The HyperFlash memory family offers 3.0V and 1.8V versions and three densities: 128Mb, 256Mb and 512Mb. These devices provide a seamless migration path from Quad SPI to dual Quad SPI to HyperFlash memory, so that system applications can be scaled to different levels of flash performance when paired with compatible controllers. OEMs are able to offer different product models with a single design.
The 12-pin Cypress HyperBus interface consists of an 8-pin address/data bus, a differential clock (two signals), a chip select and a read data strobe for the controller—which help reduce the overall cost of the system through reduced pin count. Memories based on the interface enable systems with faster response times and rich user experiences. The Cypress HyperBus interface enables a wide range of high-performance applications, such as automotive instrument clusters, infotainment / navigation systems, handheld displays, digital cameras, projectors, industrial automation, communication systems, medical equipment and home appliances.
The 3.0V, 256Mb S26KL256S HyperFlash is sampling now with production expected in the third quarter of 2015. It will be available in both 3.0V and 1.8V versions packaged in a market-compatible 6 mm x 8 mm ball grid array (BGA). Both the 3.0V and 1.8V versions of the 512Mb HyperFlash are sampling now, and the 128Mb will begin sampling in the third quarter of 2015.
Related Links: