SignalFire's new wireless telemetry's Multi Input/Output (MIO) Module connects directly via (Modbus) with programmable logic controllers (PLCs), or be configured to perform autonomous local control where an input triggers a relay output when a set threshold is met.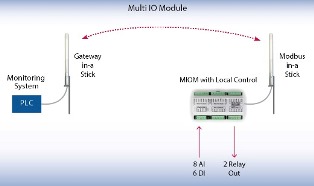 The MIO module provides wireless I/O capability as part of Signal Fires remote sensing system.The MIO module provides wireless I/O capability as part of the company's Remote Sensing System, sending data from attached sensors to a SignalFire Gateway that reports inputs and write outputs via its wireless network. When operating with in non-wireless Modbus mode, the SignalFire Multi I/O Module can be connected directly to a user's controller via Modbus RS-485 or operate independently without any outside device control. For example, when connected to analog level sensors, the MIO Module locally creates a command to shut off the pump if configured levels get too high. Additionally, the module can be connected wirelessly (or wired) to a monitoring device (PLC) to monitor status, says the company.
With eight analog and six digital inputs, the module can be connected to a variety of devices such as pressure, flow, or level sensors, motor controllers or radar sensors. Two relay outputs are offered for control and units can be daisy chained for added flexibility. The ultra-low power design supports long-term operation using solar power. Units are certified to Class 1 Division 2, Temp Code T4, Groups C&D, CSA C22.2 No. 213, UL 61010-1, and CSA C22.2#61010-1 for operation in harsh conditions and challenging terrains.
Related Links: