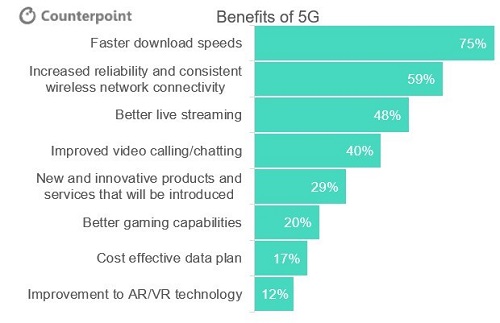 What consumers are looking forward to in 5G smartphones. Source: Counterpoint ResearchThe next generation of wireless communications, 5G, is still in its infancy, yet 81% of consumers find the technology appealing over 4G wireless and are "extremely interested" in purchasing a 5G smartphone, according to a new survey from Counterpoint Research.
Of those surveyed, 59% said they were either very interested or extremely interested in purchasing a 5G smartphone.
The reason people are interested in 5G networks and phones is due to the faster download speeds and improved network experience of currently available applications. However, consumers do not have high initial expectations for the technology.
"This study is good news for handset OEMs and carriers who have invested heavily in 5G," said Tom Kang, research director at Counterpoint Research. "Consumers have a very positive opinion about 5G despite not having a clear understanding of its capabilities. The study revealed there is tremendous interest in 5G and that over 30% of consumers are willing to buy a 5G device even if 5G is not yet available where they live."
Even better news for manufacturers is that 95% of respondents expect to pay more for their 5G smartphone than what they paid for a 4G smartphone. Of those surveyed, 75% of the respondents expect to pay $1,000 or less.
The $1,000 threshold appears to be the price ceiling for most consumers, which is an important data point for handset OEMs, according to Counterpoint Research. The positive news is that brand loyalty is important when buying 5G devices, but not nearly as high on the carrier side, as 50% said they were willing to switch carriers for better access to 5G.
The complete research can be found in Counterpoint Research's 5G Consumer Opinion Survey.