NASA is set to test a brand-new propulsion technology with the help of an experimental airplane named "
Maxwell.
"
The new technology will incorporate 14 electric motors turning propellers and integrated into a uniquely designed wing.
This is the first time in 10 years that NASA has launched an X-plane back into action. X-planes are experimental United States aircraft and rockets that are used to test and evaluate new technologies and aerodynamic concepts. The planes have an X designator, which indicates the research mission within the US system of aircraft designations.
The X-57 number designation was assigned by the US Air Force. The first X-plane was the X-1, which became the first airplane to fly faster than the speed of sound in 1947.
"With the return of piloted X-planes to NASA's research capabilities—which is a key part of our 10-year-long New Aviation Horizons initiative—the general aviation-sized X-57 will take the first step in opening a new era of aviation," said Charles Bolden, NASA administrator.
As part of the testing, NASA could test up to five X-planes to demonstrate advanced technologies that aim to reduce fuel use, emissions and noise.
NASA researchers chose to name the airplane "Maxwell" in honor of James Clerk Maxwell, the 19th- century Scottish physicist who achieved groundbreaking work in electromagnetism.
About Maxwell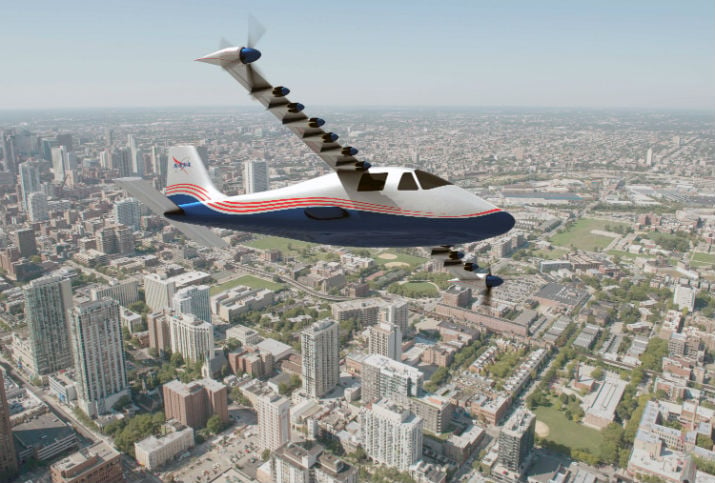 Artist's concept of NASA's X-57 Maxwell aircraft. NASA Aeronautics researchers will use the Maxwell to demonstrate that electric propulsion can make planes quieter, more efficient and more environmentally friendly. (Image Credit: NASA Langley/Advanced Concepts Lab, AMA, Inc.) The plane will have its original wing and two gas-fueled piston engines replaced with a long, skinny wing that consists of 14 electric motors—12 located on the leading edge for take-off and landing, along with one larger motor on each wing tip for cruising.
The main goal is to prove that by distributing electric power across a number of motors integrated with an aircraft in this way, the airplane will see a five-times reduction in the energy required to cruise at 175 mph.
Other achievements will be made if all goes well, including eliminating carbon emissions (Maxwell will be solely battery-powered) and demonstrating how demand would shrink for lead-based aviation fuel that is still currently used.
This kind of energy efficiency could benefit travelers by reducing flight times and fuel usage, as well as reducing costs for small aircraft by as much as 40%, according to NASA.
As an added bonus, electric motors are much quieter than conventional engines, so the X-57's electric propulsion technology is expected to decrease aircraft noise and make it less "annoying."