LIDAR (Light Identified Detection and Ranging) is an important tool to achieve autonomous functions on a sophisticated level. A LIDAR module typically monitors a 360° environment around a car using 3D mapping for object detection and by scanning many thousands of points per second. LIDAR technology also works in rain and snow.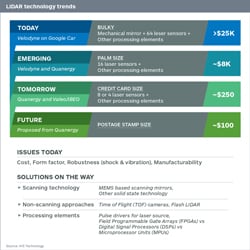 Source: IHS TechnologyToday, the high cost and large form factor of a LIDAR module makes it difficult to implement in production volumes, says Akhilesh Kona, analyst with IHS Automotive Semiconductors, in a research note. For instance, Google's self-drive car includes a Velodyne's large LIDAR module mounted on top of the vehicle. Mercedes, BMW, Audi, Ford, Nissan and others are also mounting such technology externally as part of their self-driving R&D.
Kona says that multi-plane LIDAR module makers such as Velodyne, Quanergy, Ibeo and Valeo are working on solutions to lower the cost, and more importantly, shrink the module form factor to allow an internal implementation. After all, says Kona, aerodynamics and aesthetics cannot be ignored.