Long Term Evolution (LTE) wireless technology networks are slowly but surely transitioning to true 4G just in time for the debate to begin regarding the next-generation technology, 5G, according to a new survey of wireless operators conducted by IHS.
The move to true 4G is good news, says Stéphane Téral, research director for mobile infrastructure and carrier economics at IHS. However, the bad news is that most users already believed they were on 4G. With most consumers complaining about inconsistent experiences and falling short of expectations, current networks have left something to be desired.
"How many times does your smartphone display LTE or 4G and you still see the infamous spinning wheel?" Téral questions.
However, with half of the operator responses in the survey indicating that they have already deployed LTE-Advanced (LTE-A) on their LTE networks, this is slowly changing, IHS says.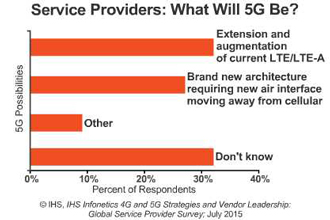 Survey results from operators when asked about 5G possibilities. Source: IHS As far as 5G goes, the debate over the next-generation of wireless smartphone connectivity is mixed over fanfare, hype and confusion, Téral says. The results from the IHS survey back up this statement with operators having minimal concrete answers about what 5G will be and what it will not be.
Other interesting trends happening among operators according to the survey include:
Inter-band carrier aggregation is the most common and very first LTE-A feature deployed by survey respondents.
Commercial voice over LTE (VoLTE) service is being adopted slowly this year and 2016.
4G network functions virtualization (NFV) migration will not happen any time soon because mobile operators are not able to undertake the migration soon.
Operators view Ericsson, Huawei and Nokia as the top LTE equipment manufacturers.
Questions or comments on this story? Contact engineering360editors@ihs.com
Related links:
News articles:
Broadband Rises to Record Levels in Europe in 2014, IHS Says
Keysight to Buy LTE Test House
LTE Mobile Infrastructure Revenue to Peak in 2015
Carrier Aggregation: Making the Whole Greater than the Sum of Its Parts
The Ramifications of Samsung Using the 14nm Exynos AP in Galaxy S6