Spending on Long Term Evolution (LTE) helped to push mobile infrastructure revenue up 10 percent in 2014, but with the peak reached for LTE buildouts, a decline in mobile macro infrastructure spending is slated to begin in 2016, according to new research from IHS Inc.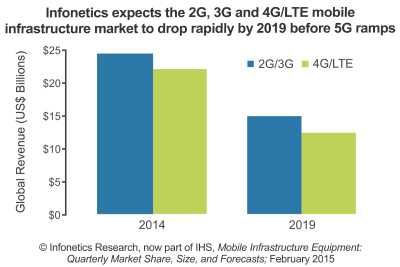 IHS forecasts mobile infrastructure revenue to drop to $27 billion by 2019.For the full year 2014, LTE was responsible for pushing infrastructure spending to $46.8 billion worldwide, thanks in large part to China Mobile's massive TDD-LTE deployment, IHS said. LTE helped pull the entire mobile infrastructure market out of its funk, growing 69 percent in 2014 from the previous year.
Stéphane Téral, principal analyst for mobile infrastructure and carrier economics at Infonetics Research, now part of IHS, said in a statement that because the mobile infrastructure market has reached the peak of the LTE buildouts, the market dynamics will cause "the mobile macro infrastructure industry to enter a long-tail decline beginning in 2016" until spending on 5G starts.
Other highlights from IHS' recent research include:
The 2G/3G/4G mobile infrastructure market is expected to drop from nearly $47 billion to $27 billion from 2014 to 2019 as we have hit an end to macrocell mobile deployments.
China Mobile has rolled out 700,000 eNodeB units as of January 2015 with plans to roll out an additional 300,000 this year.


There are an estimated 450 commercial LTE networks that will be launched by the end of 2015.



In the fourth quarter of 2014, mobile infrastructure revenue reached $12 billion, up 8 percent from the the third quarter of 2014 and up 10 percent from the same period of 2013. This growth was largely the result of China Mobile activity as well as 3G growth in Europe and the Middle East.


The market share leaders in the infrastructure market were Ericsson, Huawei and Nokia Networks, the latter of which gained share due to a strong presence in China as well as its relationship with Sprint and T-Mobile in the U.S.
Questions or comments on this story? Contact peter.brown@globalspec.com
Related links:
News articles: