The automotive powertrain semiconductor business grew 8.3% to reach an annual value of $7.2 billion in 2014, according to IHS Technology.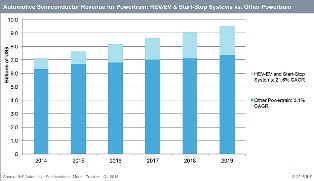 Automotive Semiconductor Revenue for Powertrain. Source: IHSOver the next five years, the powertrain semiconductor market will grow with a compound annual growth rate (CAGR) of nearly 6% taking the annual market to $9.5 billion in 2019, IHS forecasts.
The share of the market represented by electric and hybrid vehicles and stop-start systems will grow from less than $1billion in 2014 to more than $2 billion in 2019 while conventional powertrain semiconductors, although a major application, will show slower than average growth, IHS says.
Electrification is clearly driving the powertrain semiconductor market. Start-stop systems are forecast to grow at a CAGR of 21%, while plug-in hybrid vehicles are expected to have a strong annual growth of 37% for the next five years, IHS says.
In addition, for internal combustion engines, there is an increasing trend away from traditional multi-port fuel injection systems towards gasoline direct injection systems. Direct injection systems are more efficient and require higher semiconductor content than their multi-port counterparts.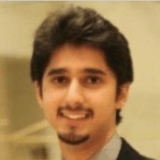 Ahad Ahmed Buksh, analyst of automotive semiconductors at IHS"Propulsion systems for electric and hybrid vehicles demand, on average, 10 times more semiconductor content than a conventional engine," says Ahad Buksh, automotive semiconductors analyst at IHS, in a statement. "Without electrification, the powertrain semiconductor market would have only grown 3.1 % annually for the next five years, whereas electrification is now accelerating the market at 6 % growth rate annually."
Key technologies that will be included in powertrain going forward include dc/dc converters, battery management, and plug-in chargers, all of which require power management ICs, analog ICs and discrete components.
A second factor driving sales of powertrain semiconductors is legislation on emissions which is being introduced or tightened in most regions around the world. Engine and exhaust monitoring and exhaust after-treatment all require sensors. The market for semiconductors in internal combustion engines was $4.3 billion in 2014, growing to $5.4 billion in 2019, according to IHS.
Additional detail can be found within the Automotive Semiconductor Market Tracker Q1 - 2015.
Questions or comments on this story? Contact: peter.clarke@ihs.com
Related links and articles:
IHS Automotive Semiconductor Research
News articles: