Socionext Inc., a chip company formed through the merger of the system LSI businesses of Fujitsu Ltd. and Panasonic Corp., officially opened for business on March 1.
The formation of the company has been in preparation for two years and enabled by investment from the Development Bank of Japan Inc. (DBJ). The voting rights—though not necessarily the ownership—are split DBJ 40 percent; Fujitsu 40 percent; and Panasonic 20 percent.
Socionext (Yokohama, Japan) claims it is Japan's leading system LSI company but did not provide any estimates of annual revenues. Its formation has been accompanied by moves by Fujitsu and Panasonic to divest themselves of chip-manufacturing responsibilities.
Fujitsu moved its manufacturing facilities in Mie and Aizu prefectures into two independent foundries (see Fujitsu Shakes up Semiconductor Business, Expands Foundry Platform). Panasonic sold majority stakes in three wafer fabs to Tower Semiconductor Ltd., which trades as TowerJazz (Tower Pays $7.5 million for Control of Three Panasonic Fabs).
The plan to merge the Fujitsu and Panasonic chip businesses was first floated in February 2013, a full year after a plan to merge Fujitsu, Panasonic and Renesas businesses had been explored (see Fujitsu, Panasonic Deal Makes Slow Progress).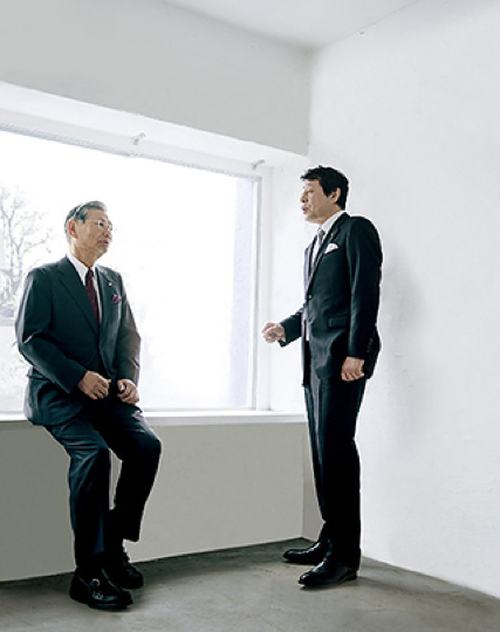 Yasuo Nishiguchi, chairman and CEO of Socionext (left) ,with Amane Inoue, president and chief operating officer of Socionext.
Socionext hits the ground running with eight business units and seven offices in Japan, including Kyoto and other areas, and 15 international offices in Asia, the United States and Europe. The business units are: IoT systems; visual systems; graphics solutions; networking SoCs; high-performance SoCs; custom SoCs; Milbeaut; and connected imaging.
The Milbeaut business unit is focused on the development of the Milbeaut ASSP for use in a range of camera systems ranging from smartphones and digital SLR cameras up to industrial equipment.
Socionext has about 2,600 employees and a market capitalization of 30.2 billion yen (about $250 million). The company name is described as being a play on the terminology SoC, I/O and next, as in next generation.
"Socionext has gathered a number of world-class engineers with the track record of providing many products, and the goal of contributing to society by creating new value," said Yasuo Nishiguchi, the company's chairman and CEO, in a statement. "While we aim to fully leverage the technical expertise and customer base that we have accumulated over many years, we will also implement a new business system, which allows us to boldly make a change, leading us to profitability and sustainable growth."
Questions or comments on this story? Contact peter.clarke@globalspec.com.
Related links and articles:
News articles: