Worldwide sales of semiconductors will grow 3.3 percent to $344.5 billion in 2015 after rising 9 percent in 2014, according to the semiannual forecast of World Semiconductor Trade Statistics (WSTS).
WSTS said that chip sales will end 2014 increasing to $333.2 billion, up from $305.6 billion in 2013. Chip revenue was driven by strong demand for memory ICs, which will end 2014 growing 17.3 percent, according to WSTS. Revenue of discretes will rise 12.3 percent, while analog chip revenue will increase 10.3 percent.
Sales growth will be more modest in 2015 and 2016. Semiconductor revenue will rise 3.3 percent in 2015 and 3.1 percent in 2016 when sales will reach $355.3 billion, according to WSTS.
WSTS forecasts year-over-year increases in all regions of the world for 2014. Chip sales in Asia Pacific will grow 11.4 percent and 8.7 percent in Europe. In the Americas, semiconductor revenue will increase 6.9 percent, while sales will rise 1.3 percent in Japan.
WSTS tabulates its semi-annual industry forecast by convening an extensive group of global semiconductor companies that provide timely indicators of semiconductor trends.
The Semiconductor Industry Association (SIA) endorsed the WSTS forecast.
The SIA said that semiconductor sales increased 9.6 percent in October to $29.7 billion compared to $27.1 billion in October 2013. October 2014 sales also increased 1.5 percent from September 2014.
Sales in the Americas increased 12.2 percent year-over-year in October compared to October 2013. Chip revenue in Asia Pacific rose 12.1 percent and 5.2 percent in Europe. However, sales decreased 3 percent in Japan.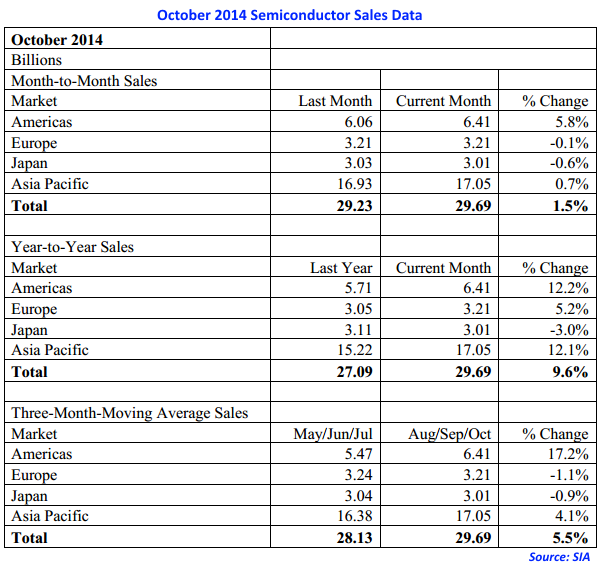 "Year-over-year global semiconductor sales increased for the 18th straight month in October and the industry is well-positioned for a strong close to 2014," said Brian Toohey, SIA president and CEO. He added that sales continue to be "strong across the board" in October with nearly all regions and product categories exhibiting increases.
Regionally, sales in October compared to September increased 5.8 percent in the America and 0.7 percent in Asia Pacific. Sales dropped 0.1 percent in Japan and 0.6 percent in Japan, according to the SIA.
Related links:
IHS Technology Semicondcutors and Components Page
IT Agreement Expected to Strengthen Chip Industry
Semiconductor Sales Set Quarterly Record
Altera Posts Higher Sales, but Sees Q4 Decline