Worldwide semiconductor sales grew 9.4 percent to $28.4 billion in August compared to August 2013 when revenue totaled $26 billion, according to the Semiconductor Industry Association (SIA). Chip sales also increased 1.3 percent in August 2014 compared to July.
The association added that year-to-date sales through August were 10.1 percent higher than they were at the same point in 2013.
"The global semiconductor market continued to demonstrate broad and sustained strength in August and sales remain well ahead of last year's pace," said Brian Toohey, SIA president and CEO.
He added that chip demand was strong across nearly all semiconductor product categories. The semiconductor industry has now posted six consecutive months of sales growth due in part to growth in the Americas market.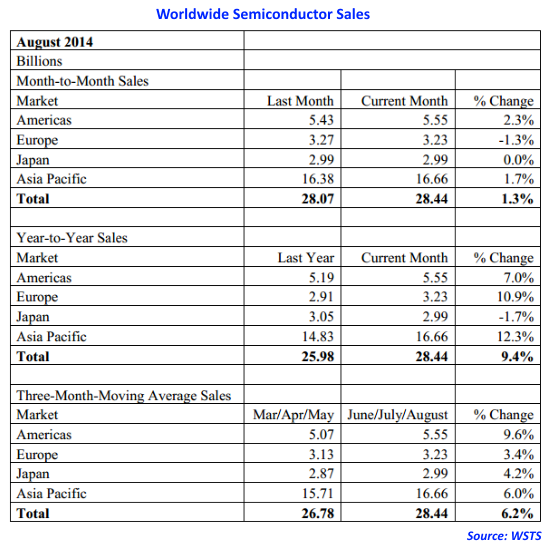 Year to date the Americas market grew 7 percent, while Asia-Pacific posted 12.3 percent growth and the European chip market increased 10.9 percent. Semiconductor sales in Japan declined 1.7 percent year to date, the association said.
Semiconductor sales in the Americas increased 2.3 percent in August compared to July and grew 1.7 percent in Asia-Pacific, but declined 1.3 percent in Europe. Chip sales were flat in Japan in August compared to July, according to the SIA.
Sales increased across all regions for the three-month period from June to August compared to the previous three-month period from March to May, the association said.
Toohey said that a strong U.S. semiconductor industry strength bodes well for the overall U.S. economy. He cited a recent SIA white paper that reported the U.S. semiconductor industry is one of the top contributors to U.S. economic growth of any domestic manufacturing industry.
All monthly sales numbers are compiled by the World Semiconductor Trade Statistics (WSTS).
Related links:
http://www.semiconductors.org/
IHS Semiconductors & Components
News articles:
Bel Signs Licensing Deal with Cosel
Chip Sales Maintain Record Pace
EMS Providers Beef up Design Capabilities to Attract OEMS
SIA: Semiconductor Sales Increased Nearly 9% in May