Fingerprint sensors are expected to follow a growth trajectory through 2020 on the back of strong penetration into the high-end smartphone market and to a lesser extent the tablet and notebook segments, according to a new report from IHS.
Fingerprint sensors, which are used primarily for mobile device login and payment security systems, grew to 499 million unit shipments in 2015, up from 316 million units in 2015. IHS forecasts that by 2020, fingerprint sensor shipments will rise to a peak of 1.6 billion units.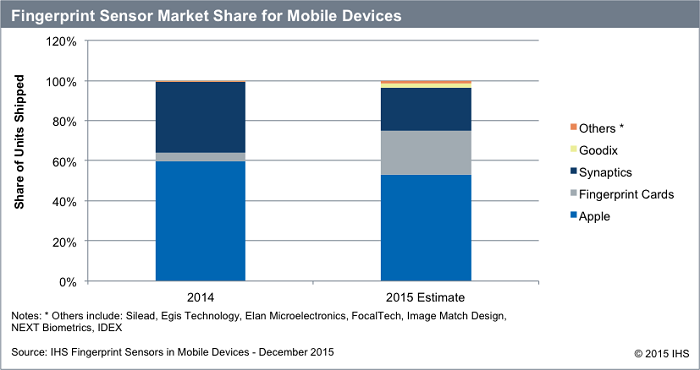 Fingerprint Cards gained market share in 2015 as a result of increased shipments in China and other emerging markets. Source: IHS "The market for fingerprint sensors has heated up quickly, with explosive growth expected to continue in 2016 and beyond," say Jamie Fox, principal analyst for LED and lighting at IHS. "The highest revenue growth is likely to be in the short term, as the market becomes more competitive, price erosion continues and the high-end smartphone market matures and becomes more saturated."
Apple, with its popular iPhone 6S and iPad product lines, continued to lead the fingerprint sensor market in 2015 bolstered by its acquisition of sensor maker Authentec in 2012. Fingerprint Cards (FPC) came from behind to tie second-ranked Samsung supplier Synaptics in unit shipments last year, however, FPC led Synaptics in revenues with $316 million, IHS says.
"As more smartphone brands have adopted fingerprint sensors, the market has expanded, and FPC reacted very quickly to the industry's trend, shifting away from swipe sensors," Fox says. "FPC's strong customer-base in China also helped catapult the company into the top three fingerprint sensor makers in 2015."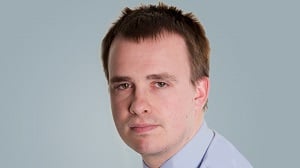 Jamie Fox, principal analyst for LED and Lighting at IHSWhile capacitive sensors currently dominate the market for fingerprint sensors, ultrasonic sensors that are more resistant to user impersonation will soon enter the market led by semiconductor vendor Qualcomm. "InvenSense is another company to watch because it is expected to introduce its own line of ultrasonic fingerprint sensors in 2017," Fox says.