Qualcomm MEMS Technologies Inc. has demonstrated a second-generation version of its reflective, non-volatile MEMS-based display called Mirasol.
Industry observers may have thought that Qualcomm had decided to get out of the display business, something it spent a lot of money getting into via acquisitions in 2000s. But after a couple of years back at the drawing board the company has produced a Mirasol variant dubbed single mirror IMOD (SMI). SMI builds on the previous and somewhat unsatisfactory version called IMOD – for interferometric modulation and promises to provide a brighter display with richer colors.
Qualcomm showed 5.1-inch smartphone display at the SID 2014 exhibition with a pixel resolution of 2,560 by 1,440 and density of 577 pixels per inch, according to a Nikkei report.
The difference between the two versions of the display hinges on the MEMS pixel.
The Mirasol display uses a moving plate like structure to produce a reflected color by way of interference in an optical resonant cavity to create color in much the same way an oil film reflects a spectrum of color. Grey scale is then produced by duty cycle modulation of that pixel. As the display is reflective it works well in bright sunlight and as it needs no backlight it saves power.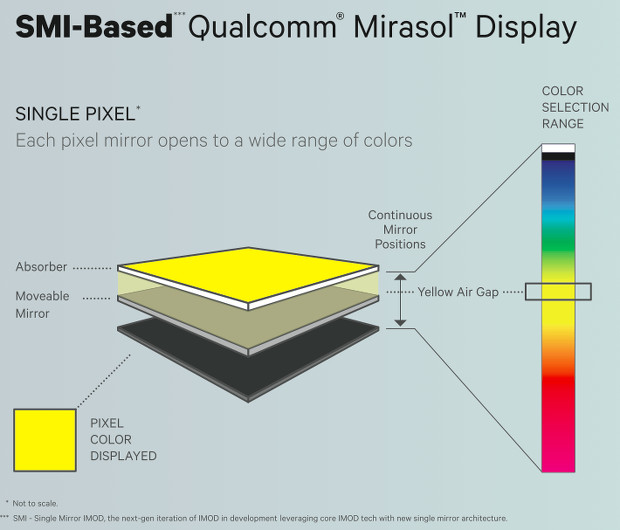 However the first generation device used the IMOD effect to produce red, green and blue sub-pixels and then a conventional display drive scheme to produce full color display. But the effect looked muted compared with backlight displays and despite a couple of e-reader design wins did not appear to be a winner.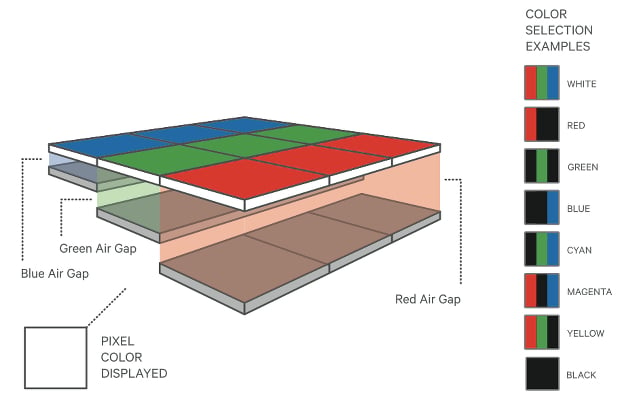 The SMI Mirasol uses a single pixel element to address a continuous spectrum of visible color. This means that the display can be more precisely tuned and that more of the surface is reflecting light producing a brighter and more vivid display.
The Mirasol technology dates back to before 2004 when Qualcomm paid $170 million for startup company Iridigm Display Corp., which originally developed the technology. Back in 2012 the company pulled back from using its Mirasol display and said it would seek licensees for the technology and with no further announcements it seemed that Mirasol would join a number of other display technologies on the scrap heap.
It was however notable that a small Mirasol display was used in the Toq, a proof-of-concept smartwatch that Qualcomm released in December 2013.
Related links and articles:
News articles:
Flexible Plastic Logic Pursues Wearables Display Market
UCLA Improves IGZO-Type Display Manufacturing