It's no secret that OEMs are reliant on electronics manufacturing services (EMS) providers to build their products, test them and ship them to customers. However, increasingly more OEMs and startups are turning to EMS providers not just to build products, but to help design, develop and bring them to market.
Many large global EMS providers have beefed up their design capabilities to win more business from existing OEM customers and attract startups which may have an idea for new product, but lack necessary design or manufacturing know-how.
One such EMS provider is Flextronics, which is based in Singapore and has facilities around the world, including in Silicon Valley. In recent years, Flextronics has been expanding its Silicon Valley Product Innovation Center, which is equipped with a plethora of design, manufacturing, supply chain and post-production services for large global OEMs as well as fledgling startups. Services include new product introduction, advanced engineering, design for manufacturing, supply chain optimization, prototyping, failure analysis, testing, production, transfer and reverse logistics management.
The center is equipped with 3-D plastic and metal printers, surface mount technology (SMT), X-ray and test equipment and has CNC machining, anodizing, advanced automation, microelectronics packaging and RF technology capabilities.
Zahid Hussain, vice president of operations for Flextronics' Product Innovation Center in Milpitas, Calif., said the center provides end-to-end supply chain services from new product introduction and design to repair and refurbishment under one roof.
If a startup or established OEM comes to Flextronics with an idea for a product, the center can "come up with a sample in just a few hours," said Hussain.
"It starts with the product concept and we take the idea to the design and engineering level and then we do the rapid prototyping," he said. "We do production on the local site and then after volume production, we offer repairs and refurbishment."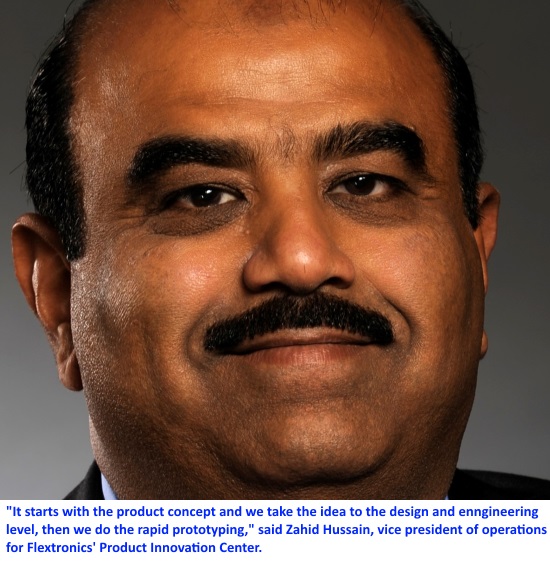 Hussain said that because the center offers such soup-to-nuts services, it is a differentiator for Flextronics.
'All-in-one dedicated prototyping site'
Tom Dinges, senior principal analyst electronics & media for IHS, said the product innovation center is unique in the industry.
"Every one of the major EMS providers has a showcase area for product development, but the Flextronics standalone site is unique because everything is under one roof," Dinges said. "Assembly, test, design, prototype production lines, 3-D printing capability are all at the facility."
Dinges noted that other EMS providers have some of those capabilities, but not at a single site that is also capable of volume manufacturing. "Whereas for Flex this is an all in one dedicated prototyping site," Dinges said.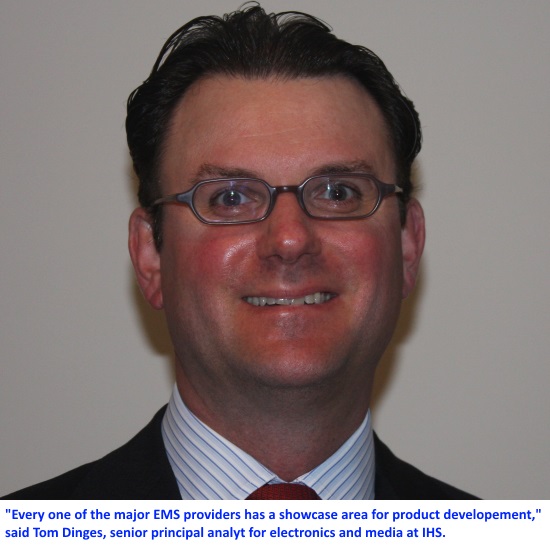 The product innovation center houses Flextronics Lab IX, which offers office and shop space, new product introduction services, design and advanced engineering support, and access to Flextronics' global supply chain and manufacturing expertise to new and established OEM customers.
Hussain said while existing OEM customers use the center, in recent year there has been a "flood of new startups" that also employ the facility to bring new products to market.
Flextronics has its Lab IX accelerator program at the center. The program is useful to companies that "don't have any infrastructure of their own," said Hussain. In addition startup accepted into the program may receive investment funds from Flextronics.
For instance, in June, Grabit Inc., an industrial automation and material handling equipment company, received investment funding from Flextronics for development of electroadhesion-based products for industrial robotics and warehouse logistics. Electroadhesion technology enables the grasp and release of parts, eliminating the need for bulky, vacuum grippers.
Hussain said a wide variety of customers are using the innovation center, including makers of high-end servers, high-speed switches and routers, data security data storage, aerospace, medical, electromechanical, solar equipment and consumer electronics equipment.
One such company is ICEdot, which developed its Crash Sensor helmet for cyclists that connects wirelessly with a cell phone to call for help if a cyclist crashes.
"The company was struggling to take a product to volume production. The center provided value added engineering" to help the company launch the product, said Hussain.
Other companies that have or are using the center include:
· Nextinput. The company develops next-generation force-sensitive touch technology for smart phones, tablets, laptops and other devices. Lab IX is working with NextInput to further develop their technology and integrate it across multiple consumer electronics products and OEMs
· OMsignal. The company has created clothes that continuously tracks an individual's biometrics. Embedded sensors in the apparel monitor heart rate, breathing and activity. An OMsignal app displays data in real-time on a mobile phone. Lab IX is working with OMsignal to redesign the electronics and enhance OMSignal's manufacturing processes.
· Amiigo. The company makes wearable electronics products that use sensing technology powered by machine learning algorithms. The products allow users to track their exercises and the amount of reps, sets, duration and intensity, while monitoring heart rate, blood oxygen and skin temperature. Lab IX is working with Amiigo to reshape and design its product to optimize for volume manufacturing.
· Central Standard Timing. The Chicago-based company makes the CST-01, which the company says is the world's thinnest watch. It uses new materials, technologies and processes that include pairing an E Ink display with a flexible solid-state battery that result in a thin, disruptive product. Lab IX is working with CST on design verification testing and developing innovative manufacturing processes.
Gateway to Flex
Hussain said the center has helped Flextronics to reach more customers and grow business with existing ones. "The center is a gateway to Flextronics. We attract customers in Silicon Valley, incubate their ideas with our offerings" and then provide volume production at Flextronics' sites around the world, he said.
Of course Flextronics isn't the only EMS provider that is enhancing its new product introduction and design services in a bid to win more customers.
In July, Toronto-based Celestica announced it was opening a microelectronics laboratory equipped with a 1,100-square foot, ISO class-6 clean room to help startups and other electronics OEMs develop new microelectronics product ideas.
The facility will provide electronics companies technical expertise and advanced technologies to bring electronics products to market quickly and affordably, according to Shawn Blakney, senior director, technology and Innovation, for Celestica. The facility will enable start-ups, small and medium small companies to commercialize their ideas for miniaturizing electronics products through prototyping to volume production
Blakney noted that met microelectronics is in demand for healthcare, aerospace, defense, communications and renewable energy products. As optics and photonics technologies are used more by manufacturers in these markets, it is important to miniaturize and reduce cost, he said.
It's not just large EMS providers are helping OEMs design products. SMTC, an EMS provider with about $270.7 million in annual offers "a host of services" to help companies design new products, said Steve Brown, vice president of quality and engineering for the company, based in Toronto.
In assisting OEMs with new product introduction, SMTC's goal is to help customers "get the highest levels of manufacturability and reliability for their products in the shortest amount of time."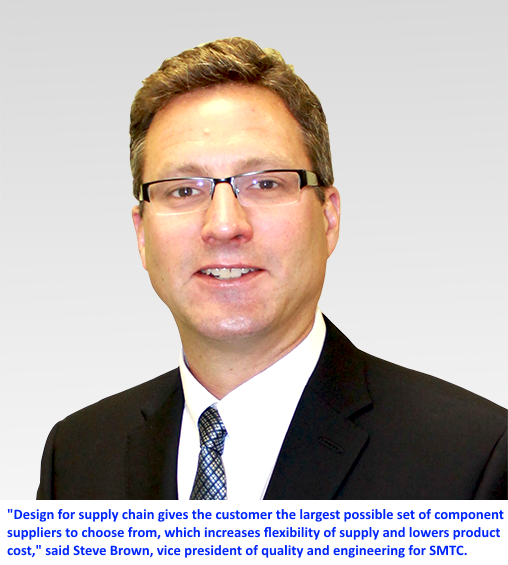 Brown said during architectural and schematic design SMTC provides design for supply chain (DFSC) and design for test (DFT) feedback.
"DFSC gives the customer the largest possible set of component suppliers to choose from increasing flexibility of supply and lowering product cost," said Brown. DFT helps confirm that "every product is functioning as designed when it reaches the end user, he said.
During the physical design stages, SMTC offers design for assembly (DFA) and design for manufacturing (DFM) services. During DFA, SMTC builds the productelectronically to identify manufacturability issues before any parts are physically built.
"This provides tremendous value in cost avoidance and time as additional design spins are minimized," said Brown.
As the product moves to the prototype stage, SMTC reports any issues or problems that occur and what needs to be done to correct those issues before the product moves to high-volume production.
Fast prototyping
Brown said SMTC can prototype products at its facilities in three to five days. "With our new NPI Technical Center launch in San Jose SMTC will be targeting prototype builds that are turned in 24-48 hours," Brown added.
He said OEM customers value the services because they reduce final product cost, minimize product development and introduction costs and speed overall time to market, which is important because product lifecycles are shorter than ever.
Brown said SMTC's industrial customers appreciate the design help.
"Many of these OEMs come from a heritage of mechanical machinery rather than electronics and highly value the experience of SMTC in the sourcing of electronic components, the assembly of PCBAs and the integration of PCBAs into their final product," Brown said.
Related stories: