Movidius Ltd. (San Mateo, Calif.), a fabless chip company that had two of its Myriad-1 vision processors inside Google's Project Tango, has announced a second generation of its vision processor.
Myriad-2 offers a factor of 20 improvement in energy efficiency over Myriad-1 and comprises a larger and upgraded set of software-programmable processors, configurable and dedicated image and vision accelerators, the company said.
The dramatic improvement comes because the design is implemented in a 28nm CMOS by foundry Taiwan Semiconductor Manufacturing Co. Ltd.while the Myriad-1, with less functional units, was implemented in 65nm CMOS.
The Myriad-2 supports two trillion 16-bit operations per second at a power consumption of 500mW. The architecture is based on 12 128-bit very long instruction word "Shave" processors and two 32-bit RISC processors. The chip includes 2-Mbytes of on-chip memory and 400-Gbytes per second of sustained internal memory bandwidth.
The device operates at 0.9V and a clock frequency of 600-MHz with a turbo mode. The off-chip memory requirement is for up 8-Gbits of 2 vy 32 LPDDR2 or LPDDR3 DRAM capable of up to 1,066MHz operation. It supports up to six full HD 60 frames per second camera inputs simultaneously via 12 MIPI lanes.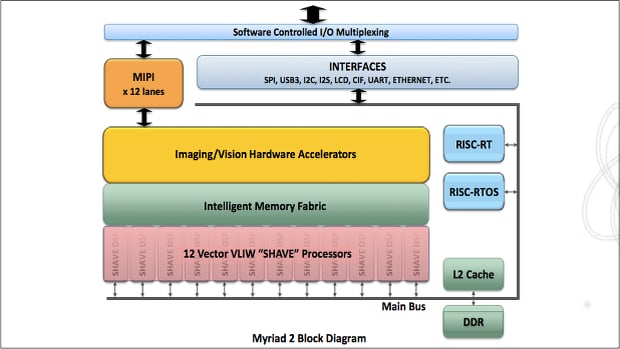 Block diagram of the Myriad-2 vision processing unit. Source: Movidius.
Given its highly parallelized data processing architecture and on-chip memory fabric, Myriad-2 can achieve high-performance processing with low latency. For the standard vision processing benchmark known as the Haar Cascade classification, Myriad 2 can calculate 50,000 multi-scale classifications per high-definition (HD) video frame in a mere seven milliseconds, the company said.
Movidius reckons the Myriad-2 can operate either as a coprocessor to the main application processor in a vision-enabled mobile device, or can be a standalone processor in wearable or other embedded applications. The Myriad Development Kit (MDK) supports C, C++ and and OpenCL front-end. In addition to using their own proprietary algorithms when building application pipelines, developers have access to optimized software libraries for several standard functions.
Movidius is making Myriad-2 samples, the MDK and a development board available to some customers prepared to sign a non-disclosure agreement in August 2014, but not to others, the company said. A technical presentation of Myriad-2 is due to be given at the Hot Chips Symposium that takes place at The Flint Center in Cupertino, California, on August 11 to 12, 2014.
Movidius, which was founded in Dublin, Ireland, in 2006, recently went through a management change bringing in Remi El-Ouazzane to lead the company as CEO and Farshid Sabet, as chief business officer, under chairman Dan Dobberpuhl. Company co-founders Sean Mitchell and David Maloney continue to serve the company as chief operating officer and chief technology officer respectively. El-Ouazzane joined Movidius in May 2013 after a 16 year career with Texas Instruments where he end up as general manager of the OMAP business unit.
"The next disruption in mobile will be about incorporating vision applications into connected devices, bringing them closer to the complexity and sophistication of human vision. Thanks to Myriad-2's radically innovative architecture, our customers can now create proprietary ultra-low power, captivating vision experiences that drive demand for existing products and accelerate completely new product categories," said El-Ouazzane, in a statement.
Related links and articles:
IHS Technology Semiconductor & Components Page
News articles:
Startup Hits Computex with 3D Vision Processor