A team working under Professor James Tour on silicon oxide as a material for resistive RAMs (ReRAMs) claims to have brought the memory technology closer to mass production with the introduction of a refinement, the use of nanoporous silicon oxide. This will allow manufacturers to make memory devices at room temperature with conventional production methods as well as improving several key parameters, the group said.
The addition of nanoporous material reduces the forming voltage to about 1.6V and a factor of 13 below what it was with solid-state silicon dioxide and avoiding the need to voltage pump.
Tour and researchers have been working on the use of silicon dioxide – conventionally an insulator in chip production – since their 2010 discovery that driving a current through thin layers of silicon oxide can form filaments of crystalline silicon less then 5nm wide. The initial forming voltage strips oxygen atoms from the silicon and less pulses can be used to make and break the connection, turning it into a non-volatile memory. A yet smaller voltage can be used to read the state of the memory without altering it.
In the latest study, a team headed by lead author and Rice postdoctoral researcher Gunuk Wang showed that using a porous version of silicon oxide could improve Rice's ReRAM by reduced the forming voltage to less than two volts, a 13-fold improvement over the team's previous best and a number that stacks up against competing ReRAM technologies. "We also demonstrated that the porous silicon oxide material increased the endurance cycles more than 100 times as compared with previous non-porous silicon oxide memories. Finally, the porous silicon oxide material has a capacity of up to nine bits per cell that is highest number among oxide-based memories, and the multiple capacity is unaffected by high temperatures," said Wang in a statement.
Professor Tour said the latest developments with porous silicon oxide – reduced forming voltage, elimination of need for edge fabrication, excellent endurance cycling and multi-bit capacity – are extremely appealing to memory companies. "This is a major accomplishment, and we've already been approached by companies interested in licensing this new technology," he said.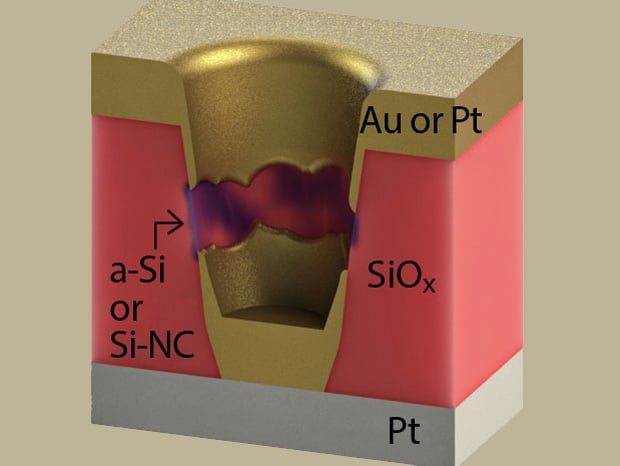 Writeable crystalline filament pathway in Rice University's porous silicon oxide ReRAM. Source: Rice University.
Most the research and development into ReRAMs to date has focused on metal-oxide layered systems or the migration of metal ions into amorphous silicon insulator layers. ReRAM is expexted to replace flash memory, based on electron storage, some time soon because it operates faster than flash, at lower power consumption and achieve greater density (see Addressing Scheme Enables Terabyte Memories, Says Crossbar). However, the science behind filament formation and breakage is not yet fully understood and a memory device based on silicon dioxide could provide simpler manufacturing.
Other research teams investigating silicon-dioxide include one from University College London (UCL) and one under Professor I-Wei Chen at the University of Pennsylvania who has included atomically dispersed platinum in silicon oxide material.
"This memory is superior to all other two-terminal unipolar resistive memories by almost every metric," Tour said. "And because our devices use silicon oxide – the most studied material on Earth – the underlying physics are both well-understood and easy to implement in existing fabrication facilities."
The team has chosen to contain the non-volatile memory gap on the side walls of holes in the silicon oxide film where silicon can exist in amorphous or nano-crystalline form. The research, including comparisons with other metal-oxide ReRAMs is included in Nano Letters.
Related links and articles:
IHS Technology Semiconductor & Components Page
News articles:
ST's OxRAM Targets FDSOI Microcontroller
Addressing Scheme Enables Terabyte Memories, Says Crossbar
CEO interview: Adesto's Derhacobian Looks to Move CBRAM to Asia