ARM Holdings plc has produced a 64-bit test chip and board to help engineers develop drivers, graphics, GPU-compute and secure applications for Android-based systems. At the same time Linaro, the not-for-profit engineering organization that serves the ARM ecosystem, has announced it has ported Google's Android Open Source Project (AOSP) to the 64-bit ARMv8-A instruction set architecture.
The Linaro ASOP has been tested on the "Juno" 64-bit development platform from ARM as well as on so-called fast models of ARM processor cores.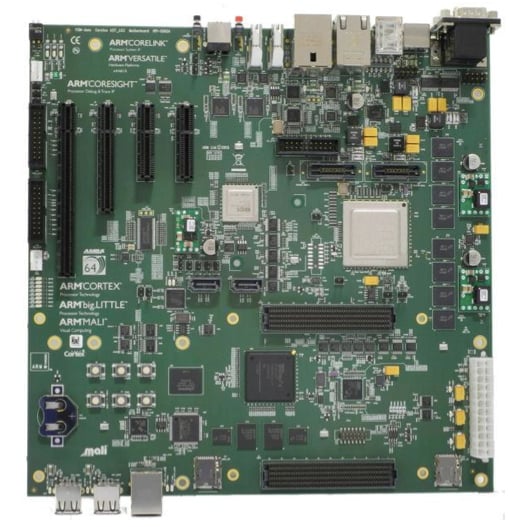 Juno 64-bit development board
The Android L revision – to follow on from v4.4 known as KitKat – is going to be the first one to support 64-bit operations, according to Vincent Konstanje, vice president of systems and software marketing at ARM. Up until now the main hardware platform for Android is the 32-bit ARMv7 architecture ARMv8-A supports 32- and 64-bit operations.
Prior to the introduction of the Juno development board ARM developers could only make use of hardware-based emulators or fast software models to run their own software.
The Juno-AOSP combination is intended to be a support for people writing software and middleware for mobile equipment rather than developers of server software. The final version of the Juno board will not have PCIe connectors, Konstanje said.
The ARMv8-A hardware development platform is based on the Juno test chip which includes a quad-core Cortex-A53 CPU, a dual-core Cortex-A57 CPU in a big-little configuration and a quad-core Mali-T624 GPU. ARM's Konstanje said that the Juno SoC provides an FPGA extension to support the creation and testing of hardware IP as part of SoC development. The board includes 8Gbytes of DDR3 memory with a bandwidth to the processor of 12.8-Gbytes per second.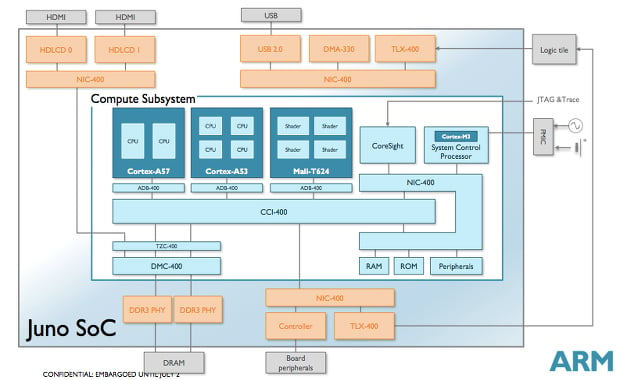 Block diagram of Juno 64-bit ARM SoC
ARM did not provide performance figures for the Juno test chip or indicate what process it has been implemented in. Konstanje said it doesn't matter if the performance is not that high as the board is intended only for development.
The board measures about 25cm by 25cm and comes loaded with connectors for USB connections and keyboards and for such things as an FPGA daughter board.
While the AOSP port is available for download for free, there is a price on the Juno development board. However, the price is not for public discussion Konstanje said. "It is priced similarly to previous ARM hardware," he added.
Related links and articles:
News articles:
Imagination's Prpl Plays Linaro Catch-Up
Indian Startup Tips Wearable Processor Family
HiSilicon Launches Octacore Smartphone Chip with LTE