Demand for more electronics in vehicles has pushed the automotive industry into the third spot among the largest end markets for power semiconductors, according to a new report from IHS.
In 2014, the automotive industry outperformed many other sectors of the semiconductor market allowing this segment to move past data processing to become the third largest market for power chips, IHS research says. This year, automotive power ICs are forecast to grow 8% year-over-year while discrete revenue is projected to remain flat during this same period. Particularly strong in power chips is advanced driver assistance systems (ADAS) and infotainment systems.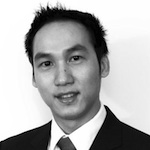 Jonathan Liao, senior analyst for power semiconductors at IHSJonathan Liao, senior analyst for power semiconductors at IHS, says in a statement that shared designs, components, engineering and production platforms are helping auto makers keep control research and development costs low as well as using the same electronic control units (ECUs) for many different platforms with the same features.
"While over time modern cars have increased in size, suppliers prefer small and interchangeable electronic control units that can fit on various platforms, which help lower overall development costs, and expand the universe of target customers, for an improved return on investment," Liao says.
This approach is paying off as power chips are growing faster than discrete solutions. IHS uses Texas Instruments (TI) as an example of a company that controlled just 8% of voltage regulators for the automotive market in 2011, but increased its revenues by 150% by the end of 2014. By comparison, Infineon—the leading automotive-market supplier of discrete power solutions—only grew at roughly half of TI's growth rate during the same period.
Premium Features Find Their Way into Non-Luxury Vehicles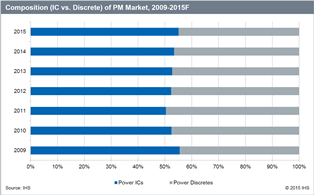 Power IC growth is outpacing that of discretes in the automotive industry. Source: IHSAnother reason or the rise in automotive power semiconductors has been the inclusion of more premium features in vehicles that are considered to be in the non-luxury class. These features such as adaptive cruise control, blind-spot monitoring, connected traffic updates, sophisticated infotainment systems with voice command and others are being offered as either options or upgrades into mass-produced mid-range vehicles, such as the Ford Fusion.
"Features that were originally designed for Mercedes-Benz, BMW, Lexus and other luxury cars have very quickly found their way into the non-luxury market," Liao says.
Other key features will be coming to non-luxury vehicles as well, further increasing power IC adoption including Internet-connected cars, vehicle-to-vehicle (V2V) communications, autonomous cars, Apple's CarPlay and Android Auto, IHS says.
As a result of this, IHS sees the trend of power ICs outperforming and outgrowing discrete solutions to continue.
Questions or comments on this story? Contact engineering360editors@ihs.com
Related links:
IHS Power Management Market Share and Supplier Analysis
News articles:
Macom Completes Automotive IC Divestiture
3 Ideas Hybrid/Electric Vehicle OEMS are Using to Increase Consumer Adoption
IHS: Chinese Automotive Semi to Reach $6.2 Billion This Year
'Outsiders' Make Inroads in ADAS Market
Deep Learning: Automotive Industry Takes a Giant Leap Forward