North American printed circuit board shipments increased 4 percent in November 2013 from November 2012, but new orders fell 6.7 percent, according to Association Connecting Electronics Industries (IPC).
PCB shipments and bookings in November were both lower than in the prior month, reflecting normal seasonal patterns, the association said. Compared to October 2013, PCB shipments in November were down 6.3 percent and bookings were down 15.5 percent, according to IPC.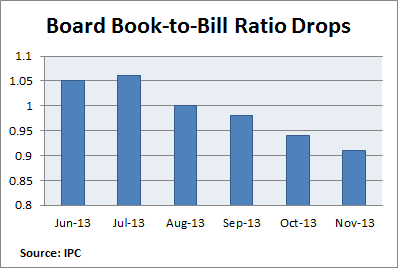 The board book-to-bill ratio was 0.91, down from 0.94 in October. A ratio of 0.91 means that board manufacturers received only $91 of new orders for every $100 of boards that they shipped in November.
"While sales continued to strengthen in the North American PCB industry compared to last year, orders declined," said Sharon Starr, IPC's director of market research. "This disparity between sales and order growth pushed the book-to-bill ratio to its lowest point since March 2009. She added that he results indicate "a slow and possibly bumpy recovery going into 2014."
Related stories: