Thanks to tight inventory management throughout 2013, the semiconductor industry and orignal equipment manufacturers (OEMs) are poised for a big finish to 2013, according to IHS.
"Inventories have been lean throughout the channel in 2013, following a correction from oversupply in 2012 as demand unexpectedly fell in the second half of the year," said Sharon Stiefel, senior analyst, semiconductor market intelligence, for IHS. "This leads IHS to believe that revenues are tracking with actual end demand, rather than to build or drain inventory."
Based on guidance provided by a sample of semiconductor companies, the chip market grew about 5 percent sequentially in the third quarter, according to IHS.
Meanwhile, IHS said, sales increased 7 percent to $493 billion in the third quarter among OEMs in six markets— industrial, wireless, data processing, wired communications, consumer electronics and automotive. Total sales by companies serving these markets are expected to climb a further 10 percent in the fourth quarter to reach $540 billion, according to IHS.
For companies such as chip suppliers of handset OEMs, whose revenues peak during the same quarter, third-quarter inventory levels are believed to have remained flat or decreased, IHS said. But companies with anticipated seasonal holiday shipments—such as handset OEMs—most likely ramped up inventory in the third quarter to meet holiday demand in the fourth, to be followed by a welcome decline in stockpiles during the fourth quarter, IHS said.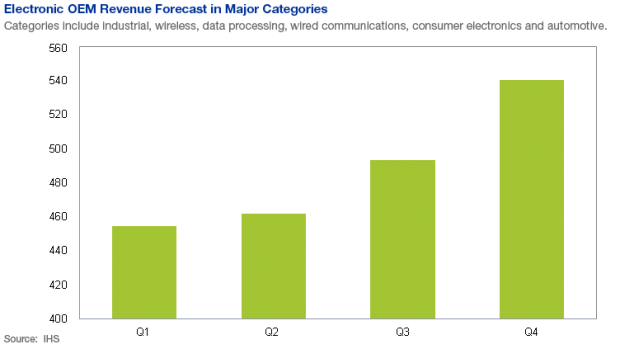 Wireless semiconductor company revenue peaked in the third quarter, driven by OEMs ordering wireless chips for smartphones, tablets and 4G wireless adoption, according to IHS. On the OEM side, those selling game consoles and handheld video game players are also expected to enjoy a boost in revenue as new-generation players hit retail shelves after a seven-year period that did not see any major upgrades, according to the firm.
IHS said it also expects new laptop and tablet models released in October to coincide with the introduction of Windows 8.1 will strengthen total sales in some categories, such as PC OEMs and consumer electronics makers.
IHS cautioned that its expectations for a lively second half to 2013 do not factor in the negative impact that could result from the recent U.S. government shutdown, which lasted slightly longer than two weeks. While impact to the semiconductor and OEM inventory market for holiday sales seems minimal following the reopening of the federal government, uncertainties remain because new fiscal deadlines must be dealt with in the first quarter of 2014, which could lead to belt tightening among consumers, IHS said.
Related stories: