Researchers at Duke University's school of engineering have developed a unique device to harvest energy wirelessly from microwave signals, operating similarly to a solar panel. Duke's device is different than a solar panel, however, in that it converts practically any type of signal to electrical energy. Signals such as satellite signals, sound signals, Wi-Fi signals, microwaves, and others are suitable inputs.
The key components of the device are metamaterials designed to capture different types of wave energy. Metamaterials are man-made materials specially designed to have properties that do not necessarily exist in nature. The researchers at Duke University, led by electrical engineering professor Steve Cummer, designed the power harvesting device as an array of metamaterial unit cells. The following figure shows the arrangement.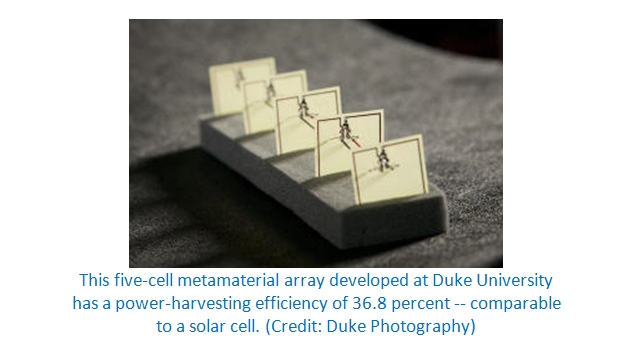 The experimental device consists of five fiberglass and copper conductors wired to a circuit board that converts a 900 MHz microwave signal into a 7.3V DC, with a power conversion of 36.8 percent of the input signal. This is much greater than the typical 5V produced by USB units used to charge small electronic devices.
"We were aiming for the highest energy efficiency we could achieve," said Allen Hawkes, an undergraduate student and team member. "We had been getting energy efficiency around 6 to 10 percent, but with this design we were able to dramatically improve energy conversion to 37 percent, which is comparable to what is achieved in solar cells."
"It's possible to use this design for a lot of different frequencies and types of energy, including vibration and sound energy harvesting," said Alexander Katko, a graduate student associated with the project. "Until now, a lot of work with metamaterials has been theoretical. We are showing that with a little work, these materials can be useful for consumer applications."
Katko said the properties of metamaterials allow for design flexibility not possible with ordinary devices. Metamaterials can be designed, for instance, as a ceiling coating to redirect and recover Wi-Fi signals that would have been lost, or as a set of power-harvesting unit cells, similar to the experimental device, which could be used to capture signals coming from satellites passing overhead. The Duke researchers expect that with small modifications these metamaterial devices could be built inside small devices such as smart phones, making it possible to recharge the phone wirelessly when not in use.
The report will appear in the journal Applied Physics Letters in December.
Related stories: