On March 4, 2009, Advanced Micro Devices (AMD) joined the swelling ranks of fabless semiconductor companies by spinning off its captive manufacturing operation. Its offspring, GlobalFoundries, hit the ground running and has remained on a tear ever since. From the beginning, the upstart aimed to become the first truly global foundry as it continues to push the cutting edge of semiconductor technology.
Yet the path forward is full of challenges. The biggest one being securing new customers, said Len Jelinek, director and chief analyst for semiconductor research at IHS. Those customers will expect not only a quality product on time, but also a breadth of support services. And in keeping ahead of the pack, GlobalFoundries must not neglect customers who require less ambitious technology. The company must also navigate a highly competitive landscape and face a constant barrage of multi-billion-dollar bet-the-company decisions.
"In baseball, if you are in the second or third inning and you're behind, you can still catch up and win the game," said GlobalFoundries CEO Ajit Manocha at a recent industry event in Japan. (see image at the top of the page.) "But you have to learn the strategy of the other team. If their strategy changes, you also have to change your strategy, so that you know how you are going to hit the ball – and where."
So far the Milpitas-based company has been hitting the ball pretty well. It started life with two fabs in Dresden, Germany, that came with the AMD divestiture. Later in 2009, it acquired Singapore-based Chartered Semiconductor through parent company ATIC, which gave it a more global footprint. (See the sidebar "GlobalFoundries' Deep Pockets in Abu Dhabi" at the end of the article.)
Since then, GlobalFoundries posted revenue growth of 32 percent in 2011 and 18 percent in 2012. With over 13 percent market share. It now ranks as the second-largest independent chip manufacturer in the world, according to Jelinek.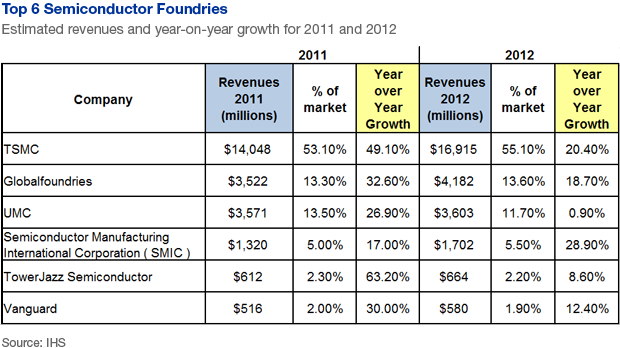 A year ago, AMD divested its remaining 14 percent stake in GlobalFoundries, freeing both companies to pursue their own paths. Around the same time, GlobalFoundries began to ramp up production at its newest manufacturing facility in Malta, New York. During construction, the plant was the largest private capital construction project in the U. S., costing nearly $7 billion.
With the Dresden, Singapore and Malta fabs now fully operational, GlobalFoundries can rightly claim to be a global player. Such geographic diversification allows it to respond quickly to customers' needs, reduce shipping time and costs, and ensure security and flexibility. With the breakneck speed at which the technology advances, long shipping times often mean that some products in the pipeline will be obsolete even before they reach customers. Reducing shipping times can therefore mean less scrap, lowering overall manufacturing costs.
Construction will likely begin within the next few months on a $2 billion state-of-the-art process and product Technology Development Center (TDC) at the Malta site in conjunction with the College of Nanotechnology Science and Engineering (CNSE) at the State University of New York at Albany and the now Albany-based industry consortium Sematech, one of CNSE's earliest industry partners.
GlobalFoundries expects the TDC to help close the gap between lab and fab. The facility will focus on leading-edge photomask techniques necessary for implementing extreme ultraviolet (EUV) lithography when that technology becomes available. Research will also include advanced packaging technologies necessary to meet the challenges of 3D chip stacking, low-power consumption and increased bandwidth. The facility will offer post-production capabilities as well, including ETest, Bump and Probe, needed by the foundry for fast yield feedback and to support customers' business models, according to the company.
GlobalFoundries is also actively seeking approval for a second manufacturing facility in Malta, called Fab 8.2. It will implement some of the techniques developed by the TDC. Although the second fab was always part of the plan, building it requires approvals from local town boards, as well as funding to meet the more than $10 billion price tag. (See the sidebar "United We Stand" at the end of this article for more details on GlobalFountries' investments.)
Challenges ahead
All these investments have one aim: To ensure that GlobalFoundries maintains a competitive edge and continues to increase market share.
"In an unstable world economy and an industry best known for its volatility, the foundry sector still presents strong opportunities, thanks in large part to the success of the fabless business model," said Mike Noonen, the company's executive vice-president of marketing, sales, design, and quality. "Analysts predict that growth of this sector will significantly outpace the rest of the semiconductor industry. We expect to continue to capitalize on that growth."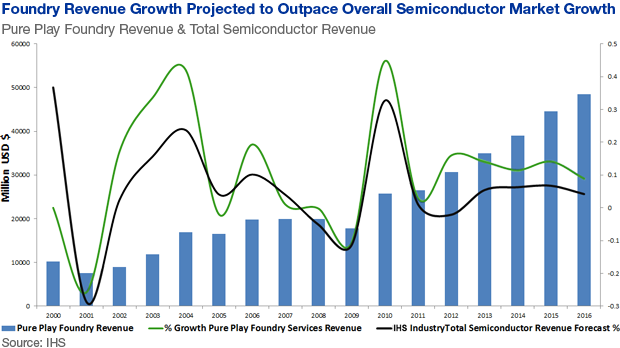 What's more, GlobalFoundries' growth will depend on the pace of growth of its competitors, especially the elephant in the room: Taiwan's TSMC. With over 50 percent market share and four times the size of GlobalFoundries, TSMC has outpaced GlobalFoundries' growth for the past two years. Its position as the number one independent chip manufacturer seems secure, for the time being at least.
But no company has a lock on leading-edge technology. Shrinking node sizes represents an opportunity for all contenders, including GlobalFoundries. "Every successive node size requires innovation. It's not simply a matter of making the same technology a little smaller," said Jelinek.
Of course, GlobalFoundries can grow only as fast as its customers, contends Jelinek. To gain share, GlobalFoundries will have to reach production volumes of 14 nm non-planar CMOS and subsequent technologies well ahead of its competitors, he added. Offering equal or slightly superior technology will not sufficiently excite companies to switch their allegiances from one of the other foundries.
Another challenge fabs face is the current disruptive nature of the market. A few years ago, personal computers and related products drove the industry's growth, and companies like GlobalFoundries could ride the wave. More recently, however, the silicon content of PCs has remained relatively stable, while the mobile sector, including handsets and tablets, has skyrocketed. Both integrated device manufacturers (IDMs) and independent foundries have been scrambling to realign their product and technology portfolios to meet the demands of the mobile sector's insatiable appetite for smaller devices that require ever-shrinking node sizes.
Indeed, the mobile sector's rapid product life cycles are relentless. For a new handset or tablet, OEMs require that the foundries and IDMs provide a rapid ramp up to full production and a technology roadmap that delivers smaller, faster and cheaper devices at an accelerating pace.
In the early days, GlobalFoundries didn't have much visibility with IDMs because the company was perceived as being a captive supplier to AMD. Even today many people still believe AMD is GlobalFoundries' primary customer (it's not). The company's customer list has grown steadily and now numbers more than 160, including Qualcomm, a dominant force in the mobile world, as well as STMicroelectronics, Rambus and IBM. In fact, one reason AMD originally planned to locate its U.S. plant in upstate New York was the proximity to IBM's research facility in East Fishkill.
The company has won new business by listening carefully, recognizing that every customer's situation is unique and accepting that not everyone needs the latest technology. "We don't give you a prescribed recipe, as in, 'Come work with us. Here is what you need to do.' We maintain a very open relationship," said CEO Manocha, at a recent industry event.
GlobalFoundries' Noonen calls this approach Collaborative Device Manufacturing. "The CDM model is built around technology and design co-optimization to deliver parts that meet the stringent requirements of high performance with low leakage and high yield," he said.
Smaller nodes, bigger wafers
GlobalFoundries' CDM model is coming up against the limitations of current lithography technology as node size heads toward 14 nm and beyond. One fork in the road is the choice foundries have to make between the "gate-first" and "gate-last" manufacturing process.
Transistor manufacturing has always involved a gate-first approach. That is, the process forms the gate first, which acts as a mask for the source and drain. The gate-last alternative lays down a dummy gate, forms the source and drain and then adds the "real" gate after the anneal step.
According to Noonen, at present for node sizes of 28 nm and 32 nm, the gate-first approach can meet the necessary performance and power-consumption requirements. And because of restrictive design rules imposed on gate-last processes, forming the gate first allows foundries to reduce die sizes by 10 to 20 percent.
For that reason, the Common Platform Technology Alliance (CPTA), a collaboration of GlobalFoundries, Samsung and IBM, elected to stay with gate-first. TSMC and its partners, on the other hand, opted for gate-last. Each approach has advantages, but customers can't switch between them. For now, choosing a foundry means selecting one or the other. For node sizes of 20 nm and below, lithography technology will require that both alternatives observe the same design rules, and the CPTA will also switch to gate-last.
Even as nodes get smaller, wafers will likely get bigger. To reduce per-chip manufacturing cost, maximum wafer diameter will increase from 300 mm today to 450 mm by around 2018. The larger wafers will contain some two-and-a-half times as many devices.
Perhaps the biggest technical impediment to reaching 450 mm is the difficulty of harnessing the extreme ultraviolet (EUV) part of the electromagnetic spectrum for lithography. No one has yet seen the light at the end of that tunnel. The alternative – immersion – increases both fabrication time and costs. Until a viable EUV process can be developed, immersion remains the only option.
While Manocha has stated publically that GlobalFoundries will not be first past the post with the 450 mm wafers, the company's Fab 8.2 is expected to have the clean-room floor space and the internal dimensions to be among the world's first capable of handling them.
Economics and logistics
Lithography for larger wafers may present the most complex challenge, but it is not the only one. IHS' Jelinek contends that economics and logistics will prove at least as vexing.
Consider economies of scale. Because setup and teardown times remain relatively constant, total manufacturing cost per wafer declines as the number of wafers increases. Below a certain production level, making 450 mm wafers will incur a cost penalty. So how many wafers per month will justify the larger size? Certainly low-volume devices wouldn't qualify. Devices like microprocessors and NAND flash have sufficient volume, but customers who engage a second source to spread manufacturing risk would lose much of the benefit.
Then there are the logistics. How do you physically move 450 mm wafers from station to station during production? Their weight and fragility complicate the process significantly. A bad 450 mm wafer – whether because of design or process problems or damage during production – means scrapping two-and-a-half times as many devices as a bad 300 mm wafer.
GlobalFoundries recognizes that no single company can provide all of the answers. The industry's transition from IDM to a fabless-plus-fab model recognizes that independent fabs offer knowledge and experience that chip designers lack. The company recognizes that sharing leading-edge production-technology solutions will benefit both manufacturers and their customers.
To this end, GlobalFoundries recently announced several strategic relationships. Cyclos Semiconductor will supply its resonant clock mesh (RCM) technology, allowing GlobalFoundries customers to develop high-performance, high-speed, next-generation devices that consume less power than they do today.
Another partnership with Rambus will encourage development of intellectual property, including high-speed memory and chip-to-chip serial link interfaces, specifically optimized for GlobalFoundries' 14 nm XM (eXtreme Mobility) FinFET production process, which can potentially reduce time to market.
In addition, an agreement with Synopsys will enable GlobalFoundries to build highly accurate tools and models to accelerate process implementation.
Although TSMC remains the number one fab by a considerable margin, GlobalFoundries has long-term aspirations to become the number one foundry. The company's more immediate goal is "to be number one in the markets that we choose to target," said Jason Gorss, GlobalFoundries' senior manager, technology communications.
Jelinek contends that GlobalFoundries needs to challenge TSMC by being an innovative risk taker, maintaining technology one-or-more years in front of its larger competitor. Also, the processes under development must be developed so they are production ready. Not only does the company need to create the technology, it has to handle all the ancillary operations for production, which is very different from what the company is capable of producing in the lab.
Bottom line: GlobalFoundries' biggest challenge is to show results, commented CEO Manocha at a recent industry event. "Customers can see the transparency that we provide, and that makes a difference. Our training as a virtual IDM inside GlobalFoundries has helped them to understand that they are in the right place. They know what they are asking for, and they know they will get it."
Time will tell if "transparency" will be sufficient to attract new customers and grow the business.
SIDEBAR: GlobalFoundries' Deep Pockets in Abu Dhabi
When Advanced Micro Devices' (AMD) spun off its fab operations in 2009, it retained a minority stake in the new company named GlobalFoundries. The new majority partner was Advanced Technology Investment Company (ATIC) of Abu Dhabi, a wholly owned subsidiary of Mubadala Development Company PJSC, which is itself wholly owned by the government of Abu Dhabi. Mubadala was formed in 2002 as the government's principal agent to diversify the Abu Dhabi economy.
For the first half of 2012, Mubadala reported approximately $200 billion in total assets under management and revenue of nearly $16 billion. The company's investments span more than a dozen industries including aerospace, energy, medical, semiconductors and utilities.
In March 2012, Mubadala increased its ownership of GlobalFoundries to 100 percent when it purchased AMD's remaining stake in GlobalFoundries. Mubadala holds a 19.4 percent stake in AMD, according to the company.
ATIC's CEO Ibrahim Ajami headed Mubadala's acquisition of an 8.1 percent stake in AMD in 2007 and led the joint venture transaction between ATIC and AMD to establish GlobalFoundries in January 2009. He also managed the acquisition of Chartered Semiconductor in 2009. In June 2011, Ajami was named vice-chairman of GlobalFoundries at the same time James Norling, the former chairman of Charter Semiconductor, was named executive chairman and Ajit Manocha was named interim CEO.
Five months later, Manocha was named CEO of GlobalFoundries. He has over 30 years of experience in the semiconductor industry having held senior positions at Spansion, NXP and AT&T Microelectronics. Last November he was elected chairman of the Semiconductor Industry Association.
By Steve Scheiber
SIDEBAR: United We Stand
By the time it is completed, GlobalFoundries' newest Fab 8.1 in Malta, New York will have cost nearly $7 billion. Its new Technology Development Center (TDC) on the site announced in January will cost another $2 billion. The company is also seeking approvals to build a second fab, dubbed Fab 8.2, that will cost more than $10 billion. That fab will eventually manufacture chips with node sizes less than 10 nm using processes as yet unknown.
And that $20 billion price tag doesn't include some of the early-stage research to determine which technologies and manufacturing techniques may prove feasible as well as economically sound.
Few companies can afford to risk such a huge investment with success so uncertain. Yet no one in this industry can afford to hang back to see which way the wind blows before beginning development. The public's ever-increasing appetite for smaller, lighter, more-advanced but less-expensive applications requires a series of bet-the-company investment decisions and flawless implementation of new device technology. It's not a place for the indecisive.
The industry is well aware that today's manufacturing methods and equipment would have been considered impossible only a few years ago. The old adage that, "the impossible just takes a little longer" offers little comfort. As a result, companies' development pipelines must always include several device generations just to keep pace. Moore's Law is an unforgiving task master.
The only viable solution requires bringing together otherwise staunch and often bitter competitors to pool their resources, spreading the risk and sharing the benefits. The success of such projects requires access to the very latest semiconductor technologies – in this case the State University of New York's College of Nanotechnology Science and Engineering (CNSE) in Albany.
CNSE's bold mission is "to serve as an intellectually vibrant powerhouse for research and education in nanotechnology disciplines, from theoretical principles to practical applications." Since its inception in 2004, the college has become a magnet for technology companies, drawing leading-edge to the upstate New York hub that has been labeled "Tech Valley."
Through CNSE, GlobalFoundries has joined with companies such as IBM, Intel, Samsung, Texas Instruments and TSMC in Sematech, a catalyst with the mission of accelerating the development and implementation of semiconductor manufacturing innovations.
Case in point is the Global 450 Consortium (G450C), established with CNSE in 2011, and consists of GlobalFoundries, IBM, Intel, Samsung and TSMC. Its purpose is to meet the formidable challenges facing the introduction of 450 mm wafers, which will contain some two-and-a-half times as many devices as 300 mm wafers, the largest wafers that fabs currently manufacture. Many of the technologies G450C is addressing and that are necessary to scale up the process still fall into the "impossible" category.
The success of these and similar joint efforts will determine the industry's ability to sustain the breakneck speed of technological development that customers of the end products have come to expect, especially in the mobile market.
"The industry is throwing enormous amounts of money at trying to do the impossible," said Len Jelinek, director and chief analyst for Semiconductor Manufacturing at IHS, "making every innovation more advanced and less expensive. It is what they have been doing since the beginning."
By Steve Scheiber