Earlier this week the Malta Town Board in the county of Saratoga NY, approved the request by GlobalFoundries to build a second, much larger semiconductor fabrication facility at the Luther Forest Technology Campus. The existing manufacturing facility, called Fab 8.1, has a 300,000 square-foot cleanroom and has been in operation for almost two years. The investment for Fab 8.1 so far has totaled $6.9 billion, it employs over 2,000 people, and it is expected to provide over 3,000 jobs by the end of 2014.
In January 2013, GlobalFoundries CEO Ajit Manocha came to the so-called "New Capital Region" in the Albany area of New York State where Fab 8.1 is located, to make the announcement that the company was looking to build a second fab, called Fab 8.2. He said the new fab would be bigger and more modern than the existing fab.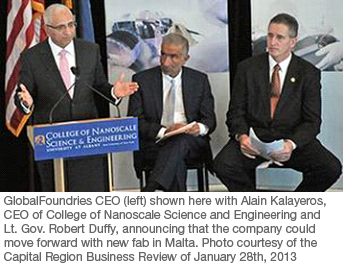 However, several members of the Malta town board were reluctant to approve this new massive project in fear it would degrade the quality of life in Malta. Local residents expressed concern about the quality and water levels of the reservoir in Round Lake, N.Y., from where GlobalFoundries would draw its water, as well as the impact of added traffic and construction.
After an agreement and a promise from GlobalFoundries to redesign certain aspects of the project, the board unanimously approved the construction of the new facility. With this approval, the company could decide to build the plant.
"Monday's vote marked an essential step in our planning process as our company evaluates potential capacity expansion opportunities around the world," GlobalFoundries spokesman Travis Bullard said in an interview with the Albany Times Union. Many observers of the semiconductor business in the Capital Region believe that GlobalFoundries is preparing this facility to be dedicated to manufacturing exclusive products for Apple. GlobalFoundries refused to comment on this speculation.
Fab 8.2 will have an estimated cost of $14.7 billion and will include a 575,000 square-foot cleanroom. It is expected to bring almost 4,000 more jobs to the region. GlobalFoundries, the second biggest foundry in the world, has already invested in a technology and development center that will employ another 1,000 people. With a construction cost of $2 billion, the center will be completed by the end of 2014.
Combined, the investment will total over $20 billion. It will be the biggest project of its kind ever completed in the state of New York, and one of the largest in the nation.