A wearable medical device doesn't have to look like a wearable medical device. A prototype smart shirt has been fashioned to perform continuous electrocardiogram (ECG) and respiratory monitoring. Holst Centre (The Netherlands), an independent R&D center formed by imec (Flanders, Belgium) and the Netherlands Organisation for Applied Scientific Research (TNO), could replace cumbersome Holter monitors for cardiac patients at home.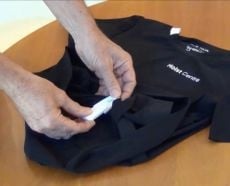 The smart shirt integrates medical-grade electrocardiogram and respiratory monitoring. (Credit: Holst Centre)The garment uses imec's wireless ultralow power multi-sensor data acquisition chip with efficient motion artefact reduction that can share the data via a wireless Bluetooth low-energy system to a smartphone. The design also increases user comfort, as the shirt incorporates compact and distinct dry electrodes rather than a chest band. The electrodes are produced using screen-printable, electrically conductive inks from DuPont, which allows their shape to be optimized for maximum skin contact for strong signal resolution and monitoring performance.
The detachable sensor module, smaller and lighter (dimensions of 50 by 30 by 10 mm and 12 grams) than previous generations, also enhances comfort for the wearer. The shirt operates for up to two days on a single battery charge, thanks to the low-power sensor and radio electronics. The mechanical properties and encapsulation are engineered for reliability in the laundry process. Keeping the shirt clean is simple: washability of 25 cycles in domestic laundry can be achieved, thereby complying with market requirements.
The electrodes can be laminated to any garment as the final stage of production, rendering the technology fully compatible with standard garment manufacturing processes.