A team of engineers from Stanford University has successfully built a basic computer with carbon nanotubes using a newly developed design technique.
According to the Stanford engineers, using the "imperfection-immune design" resulted in a basic computer with 178 carbon nanotube transistors (CNTs).
Carbon nanotubes were first fashioned into transistors around 1995, but an array of imperfections has long frustrated efforts to build complex circuits using them.
"People have been talking about a new era of carbon nanotube electronics moving beyond silicon," said Subhasish Mitra, an associate processor in electrical engineer and computer science who was one of the leaders of the project. "But there have been few demonstrations of complete digital systems using this exciting technology. Here is the proof."
After developing a process for fabricating CNT-based circuits, the researchers built a simple circuit that shows that computation is doable using them.
"It's not just about the CNT computer. It's about a change in directions that shows you can build something real using nanotechnologies that move beyond silicon and its cousins," said Giovanni De Micheli, director of the Institute of Electrical Engineering at École Polytechnique Fédérale de Lausanne in Switzerland, who is part of the worldwide effort developing CNT-based computers.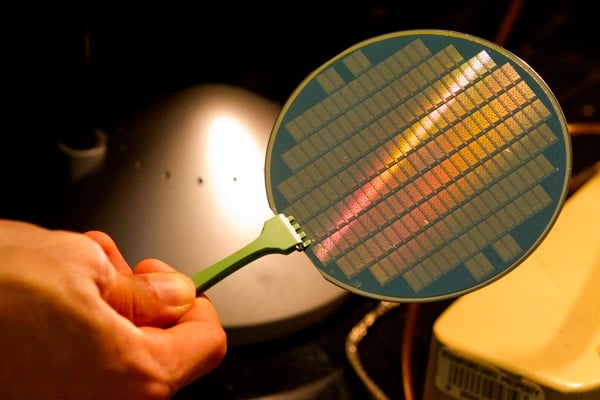 "Energy dissipation of silicon-based systems has been a major concern," said Anantha Chandrakasan, head of electrical engineering and computer science at MIT. He called the Stanford work "a major benchmark" in using CNTs.
CNTs are long unruly chains of carbon atoms that are efficient at conducting and controlling electricity but do not necessarily grow as parallel structures. Researchers have designed around that and have been able to grow 99.5 percent of CNTs in straight lines needed to be used in circuits.
Also, some carbon nanotubes end up always conducting electricity, thereby effectively becoming metallic, instead of acting like semiconductors that can be switched on and off.
For mass production, researchers needed to scout out the imperfect CNTs among the billions available in order to build the computer circuit.
"We needed a way to design circuits without having to look for imperfections or even know where they were," Mitra said.
To eliminate the wire-like or metallic nanotubes, the Stanford team switched off all the good CNTs. Applying current into the metallic nanotubes vaporized them into tiny puffs of carbon dioxide. In addition, to bypass the misaligned nanotubes, the researchers created an algorithm that maps out a circuit layout guaranteed to work no matter whether or where CNTs might be out of line.
The Stanford team was limited to 178 transistors because they used the university's comparably smaller chip-making facilities, rather than an industrial fabrication process.
The CNT computer did counting and number sorting run by a basic operating system that allows it to swap between the two processes. The researchers claim the CNT computer could run the commercial MIPS instruction set developed at Stanford in the 1980s by current university president John Hennessy.
The Stanford researchers published a paper in the journal Nature which honored the development by gracing its latest issue cover describing the two-pronged approach to "imperfection-immune design."
The Stanford research was supported in part by the National Science Foundation.