The European Union (EU) is enacting a long-term program to accelerate the adoption of fully electric vehicles (EVs) with an emphasis on safety, energy consumption and green technologies.
Nations of the EU spend 73 percent of their total oil bill — most of which is imported — on transport, according to industry estimates. Every 50 days, one million new vehicles are added to the EU's already congested roads. Pollution, carbon dioxide emissions, roadway congestion and traffic fatalities will certainly increase if the gas-powered internal combustion vehicle continues to be the dominant vehicle on European byways.
Faced with these challenges, the EU, in cooperation with private companies, is investing billions of euros in projects to accelerate the development of completely electric vehicles. There are a number of projects in the works, but one of the most advanced is the P-MOB project, the name of which is short for "personal mobility."
P-MOB is a pan-European project with funding from the European Commission. Participants include: Germany's Siemens, Spain's Mazel, Italy's Fiat Group, Interactive Fully Electrical Vehicles (IFEVS) and Polimodel, and the UK's Magnetomatics and University of Sheffield.
This month the consortium debuted a novel prototype EV that is powered entirely by solar panels. The two-seater P-MOB car (see photo below) is built by Italy's IFEVS and designed for urban transport in southern Europe. It is a very compact and can hit a top speed of 100 km/h (62 mph) and has a range of 20 km (12.5 miles) entirely power by solar energy. It uses a kinetic energy recovery system when braking, includes two motors—one for each axle—and is 30 percent more aerodynamic than other vehicles of the same size.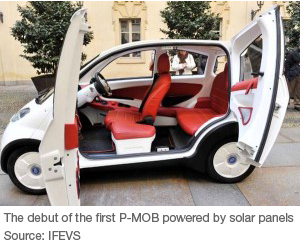 "Rather than offering forms of mobility [reliant] on ever-increasing energy prices, the industry is now faced with satisfying a rational demand for mobility: clean, safe and low-energy-consumption vehicles, requiring less energy to be produced, and using recyclable and eventually self-disposable materials," said Dr. Pietro Perlo, the CEO of IFEVS.
The P-MOB team sought to create a vehicle that is not only 'green' but also extremely safe and compact, and with reduced complexity. A typical car has more than 50 processors, actuators and sensors. Instead, IFEVS used advanced system integration techniques where solar cells, magnetic controls, distributed accumulators, power-energy management, e-motors, and other gadgets work together in harmony.
"The design has met the highest safety ranking, a low footprint and extremely low energy consumption, making the vehicle ideal for most people's needs in cities as well as suburban roads," Dr. Perlo said.