UConnect Touch is Chrysler's newest infotainment platform and debuted in the 2011 Chrysler 300, Dodge Journey and Dodge Charger. The platform, dubbed the CTP (Consumer Telematics Platform) and manufactured by Panasonic, has been received well and subsequently has been installed in many of Chrysler's model year (MY) 2012 and 2013 vehicles and is planned for many MY2014 models.
The CTP system was a departure from Chrysler's prior UConnect architectures, which were classified as "all-in-one" infotainment systems. The new UConnect Touch system uses a modular approach which links up an 8.4-inch resistive touch display with a head unit, device interfaces and instrument cluster display using Chrysler's new PowerNet Electrical Architecture.
Chrysler added an embedded cellular module to the CTP in MY2013 starting with the RAM 1500 full-size pickup. While the architecture is similar, this iteration of UConnect Touch is supplied by one of Panasonic's competitors, Harman. The CTP, starting in MY2011, was still in development phase as Chrysler moved to increase its technological prowess amongst tough competition from GM, Ford, Toyota, Volkswagen, and others.
This teardown analysis is of the two modules that compose the heart of the Chrysler UConnect system: a display/touchscreen module and a core head unit that houses the CD/DVD drive, XM (SDARS) satellite radio tuner and audio electronics. This core unit also has quite a bit of onboard processing and is therefore assumed to be performing the voice recognition function. The modularity of the two items, which appear as a seamless unit to the consumer, allows Chrysler the ability to offer other display options while maintaining the same core head unit. It also improves serviceability.
Like so many smartphones and tablets IHS analyzes, the choice of display and touchscreen are key in contemporary head units. This Chrysler UConnect Touch display assembly—identified as the Panasonic 05064798AH and referred to as the "center stack"—is defined by the choice of an 8.4-inch diagonal LTPS TFT display with 640 x 480 resolution and a conventional 4-wire resistive touchscreen.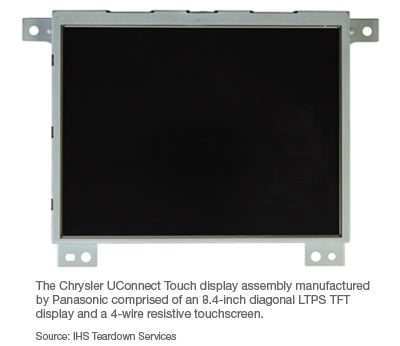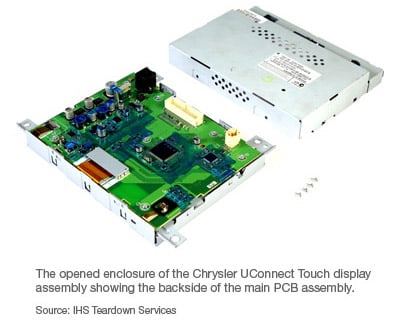 The main unit—identified as the Panasonic 05091038ZH—features a CD/DVD combo drive that supports rear-seat video entertainment as well as audio, an XM Satellite radio receiver and 12GB of NAND Flash, comprised of 4GB of SLC NAND and 8GB of conventional MLC NAND Flash. It also has an SD memory card slot for expansion. This teardown unit also features navigation.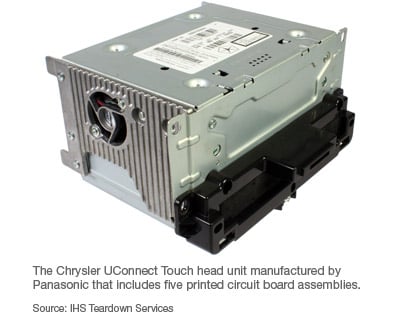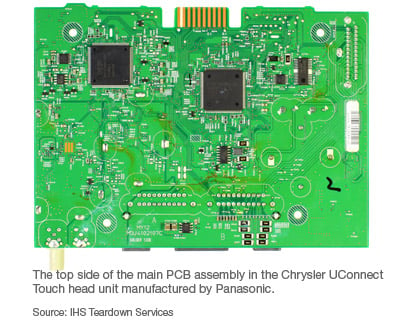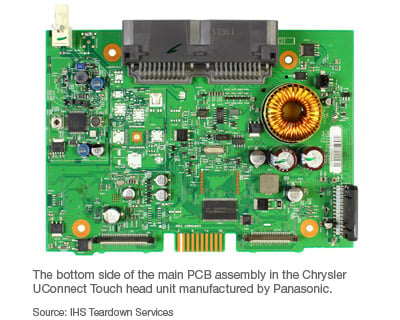 Chrysler's modular approach is not unique. The Ford Edge head unit, for example, is comprised of three modules: a head unit, a display module and a separate computer for the 'Ford Sync' functionality. The Chrysler head unit has a lot of processing power and serves as both the central processor for the infotainment system as well as the audio/video core for the system.
In aggregate, IHS counted a total of 2,657 components in this system, which figures favorably when compared with other head units in terms of overall component count and system complexity. Head units—including displays and touchscreens—can range from 2,000 to 5,000 components at the high end, though most are in the 2,000 to 4,000 range making this system relatively straightforward to produce.
The units used in the teardown were labeled as "Made in Mexico," and were likely made in-house by Panasonic Automotive Systems de Mexico in Reynosa. Many Japanese and Korean manufacturers are using their own facilities in Mexico to perform integration of systems for the North American market. IHS Teardown Services believes that the printed circuit assembly (PCBA) production was also performed in Mexico.
Bill of Materials Analysis
UConnect is broadly defined for a number of different Chrysler vehicles, and configurations appear to vary from vehicle to vehicle. The IHS Teardown team found some online pricing for the display assembly at around $1,000, with a list price of $1,270, and for the head unit around $1,700, with a list price of $2,050. However, it is difficult to determine the "retail price" of the system as it is purchased installed in the vehicle.
For the purposes of this teardown analysis, we have assumed an annual production volume of 500,000 units and a product lifetime volume of 10 years. However, because of the modularity of the system, the volumes could be different, as Chrysler may also offer different size display modules for different car models.
IHS uses the volume and production assumptions for the cost analysis in order to amortize the non-recurring engineering costs and tooling costs, especially for custom components specific to the model being analyzed such as mechanical components. Unless assumed volumes are different by an order of magnitude, minor changes in volume (say 1 million vs. 2 million) rarely have a significant effect on the cost estimate.
Taking all these factors into account, IHS Teardown Services estimated the bill of materials (BOM) for the Chrysler UConnect Touch display unit to be $129.13, with 10 components representing over 90 percent of the total cost. We estimated the total BOM of the Chrysler UConnect Touch head unit to be $243.94, with the top 10 components representing nearly 60 percent of the total cost. See BOM charts below.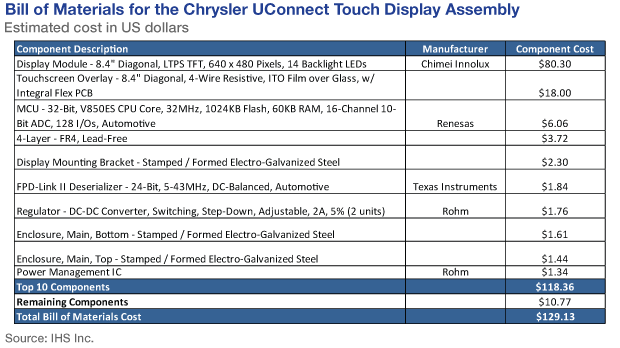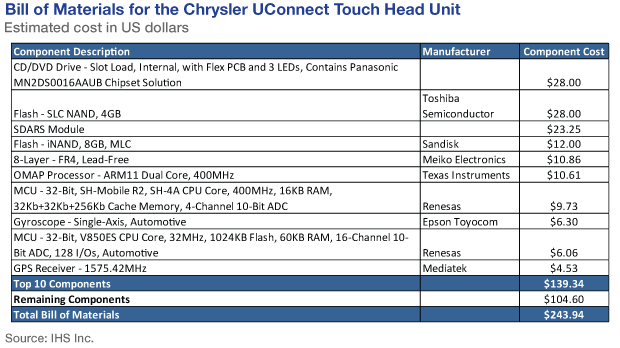 The total materials and manufacturing costs reported in this analysis reflect only the direct materials cost from component vendors and assorted EMS providers and manufacturing with basic test. Not included in this analysis are costs above and beyond the material manufacture of the core device itself – cost of intellectual property, royalties and licensing fees, software, software loading and test, shipping, logistics marketing and other channel costs including not only EMS provider and the OEM's margin, but that of other resellers. Our cost analysis is meant to focus on those costs incurred in the manufacture of the core device and exceptionally in some circumstances the packaging and literature as well.
Photo Gallery
Below are a series of photos of the primary PCBAs of both the Chrysler UConnect Touch display unit and head unit.